The world is a majestic and wonderful place.  Being able to travel and explore the world and experience cultures is priceless and, in my humble opinion, the best thing you can spend your money on.
According to Nomadic Matt's "The In-depth Guide to Buying an RTW Ticket" article, "RTW tickets prices range between $2,700-$10,000 USD, depending on your mileage, route, and number of stops, though a simple two- or three-stop RTW ticket might cost as little as $1,500 USD."
He also mentions "you can find a better deal by booking through a third party such as Airtreks, STA Travel, or Flight Centre (OZ/NZ). Third party bookers don't just deal with one alliance – they mix and match from all available airlines (excluding budget airlines) to find the lowest price, which saves you money."
What if I told you can save even more money on RTW tickets with SkySurf.Travel?  There is no "they", so you can customize your RTW trip ticket anyway you like online, and budget airlines are also included to save you even more money!  If you need help building your RTW travel itinerary, there's live online help.  In this blog entry, you'll learn how to save a ton of money on RTW tickets.  I'll show you how you can travel to 15 countries around the entire world for under $1,500.  No mile points needed, and no strings attached. Some airlines charge an extra fee for larger baggage.  Make sure to check each airline's baggage terms before booking your flights.
For this example, I'll be starting my journey from New York, NY!  I enter in "NYC" in the "Traveling From" input field, and then select "July 2017" by clicking on the "Depart Date" input field to find the best deals in July 2017.  Finally, I click on the "Search Best Deals!" button and a list of results return.  I first want to travel to Europe and found a great deal to Edinburgh, Scotland for only $80!  The flight departs from Stewart International, which is about a $20 bus ride to get to from NYC.  I add this flight to my RTW itinerary (BookIt List) by clicking on the "+Add to BookIt List" button.  A popup then appears such as the one below: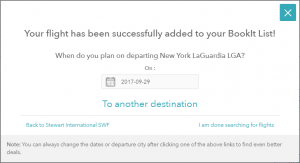 I decide to stay in Edinburgh for 5 nights, so I select the date July 26, 2017.  I then find a great deal to Dublin, Ireland for only $38!  I add this flight to my BookIt List and repeat the above process until I'm back home in New York City.
Here's where I'll be traveling to for only $1,475 (taxes included):
New York, NY USA (Starting point)

Edinburgh, Scotland – July 21, 2017 ($80)

Dublin, Ireland – July 26, 2017 ($38)

Cardiff, Wales – August 1, 2017 ($33)

Madrid, Spain – August 6, 2017 ($49)

Milan, Italy – August 10, 2017 ($33)

Prague, Czechia – August 14, 2017 ($35)

Kiev, Ukraine – August 21, 2017 ($108)

Ankara, Turkey – August 25, 2017 ($56)

Tbilisi, Georgia – August 29, 2017 ($80)

Baku, Azerbaijan – September 1, 2017 ($51)

Tehran, Iran – September 6, 2017 ($52)

Kuala Lumpur, Malaysia – September 11, 2017 ($188)

Manila, Philippines – September 15, 2017 ($49)

Seoul, South Korea – September 19, 2017 ($114)

Los Angeles, CA USA – September 23, 2017 ($344)

New York, NY USA – September 27, 2017 ($165)
Here's a screenshot of my entire RTW itinerary (BookIt List) below:

And here's a screenshot of my entire travel route, which was generated at SkySurf.Travel:

This is just an example itinerary.  The options are endless for customizing your RTW travel itinerary anyway you desire.
Be sure to check out my other blog entries for tips and ways to save a ton of money on travel.  You'll see many examples of how to travel the world in the most cost-effective way possible.

Happy travels!
Gregory Rzeczko
http://skysurf.travel/