Southeast Asia is a group of diverse countries between the Indian Ocean and the Pacific Ocean, known for its beautiful beaches, tasty cuisine, low prices, and good air connections. 
If you're planning a trip to Southeast Asia and looking for the most economical flight route, SkySurf.Travel is the online tool you'll need.  In this blog entry, I will be building a flight itinerary composed of 9 cities (7 countries) in Southeast Asia for under $400!  No mile points needed!
For this example, I'll be beginning my journey from Singapore.  Anyone who has ever traveled to Singapore will tell you it's a must place country to visit.  Here's 50 reasons Singapore is the world's greatest city, according to CNN.
First I clicked on the "Multi-city" tab, I then typed in "Singapore" in the "Traveling From" input field, selected the "Depart Date" (in this case I'm pretty flexible, so I've selected "May 2017") and finally clicked the "Search Best Deals!" button.
A list returned of the cheapest flights.  I saw a flight to Kuala Lumpur, Malaysia from Singapore for $32 and clicked on the "+ Add to BookIt List" button to add this flight to my itinerary.  A popup then appeared, such as the one below: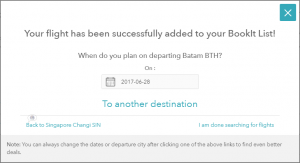 I've selected the date on when I plan on departing Kuala Lumpur, Malaysia.  For this example, I've selected May 24, 2017 and then clicked the "To another destination" link.  I've repeated the above process until I was happy with my entire flight itinerary.  Here's where I'll be flying to for under $400:
Singapore – May 24, 2017 (Starting point)

Kuala Lumpur, Malaysia – May 24 – 28, 2017 ($32)

Siem Reap, Cambodia – May 28 – June 1, 2017 ($45)

Hanoi, Vietnam – June 1 – 5, 2017 ($59)

Bangkok, Thailand – June 5 – 11, 2017 ($39)

Luang Prabang, Laos – June 11 – 16, 2017 ($45)

Jakarta, Indonesia – June 16 – 20, 2017 ($72)

Palembang, Indonesia – June 20 – 26, 2017 ($35)

Batam, Indonesia – June 26 ($44)
I decided to end my trip in Batam, Indonesia since you can take a ferry to Singapore for about $30.  The total for all my flights is $371. Below in a screenshot of my entire flight itinerary (BookIt List) I've just composed at SkySurf.Travel: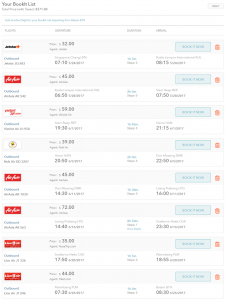 Not bad?  9 cities in Southeast Asia for under $400.  Try to see if you can beat this deal and post in the comments section below.