In this blog entry, you'll learn how to use the online airfare deal finder tool SkySurf.Travel to build the most economical travel itineraries to travel around East Asia by plane (or anywhere around the world). East Asia, also popularly known as "the Far East," is home to about 1.6 billion people.  The region contains world metropolises such as Hong Kong, Tokyo, Seoul, and Shanghai, endless archipelagoes at the edge of the Pacific Ocean, as well as vast plains and sky-high mountains.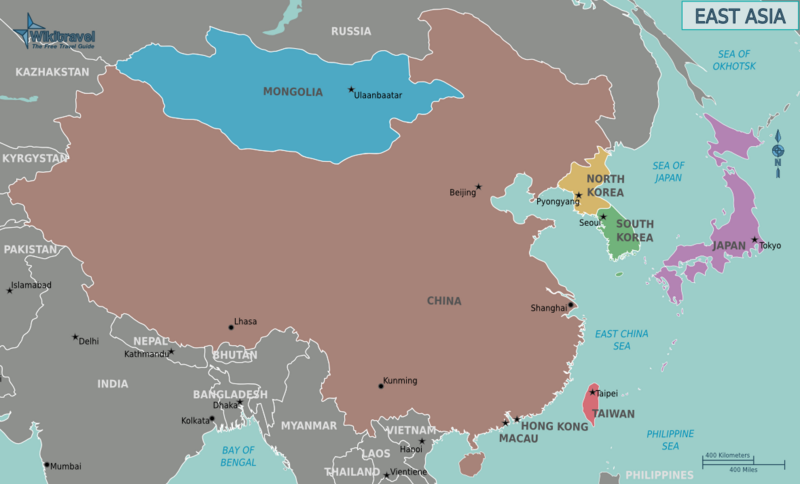 The countries that make up East Asia are as follows:
China – The world's most populous country and one of the oldest civilizations, with a vast array of cultural and natural treasures among the frenzied development
Hong Kong – A former British colony considered by many as Asia's World City. Come for the skyscrapers and shopping and still find beaches and sleepy villages on car-free islands
Japan – Isolated until the 19th century, now the world's third largest economy with both technology and tradition to offer
Macau – A former Portuguese colony with liberal gambling laws and beautiful colonial architecture in its UNESCO listed historical city center
Mongolia – A nomadic land of vast spaces and mystic Buddhism
North Korea – The world's most secret society and last remaining outpost of the Cold War
South Korea – A hotspot of innovation and pop culture and, in many ways, the opposite of its northern neighbor
Taiwan – The remnants of the Republic of China, and an island of sharp contrasts: lush mountains, skyscrapers, gentle tai-chi and delicious food
Some popular tourist destinations in East Asia include:
Altai Tavan Bogd National Park – Home to Mongolia's eagle hunters and highest mountain
Great Wall of China – Longer than 8,000 km, this ancient wall is the most iconic landmark of China
Mount Fuji – Iconic snow-topped volcano, and highest peak in Japan (3776 m).
Panmunjeom – The only tourist site in the world where the Cold War is still reality
Tibet – Mysterious place in the Himalayas with a unique local culture, considered by many to resemble the mythical Shangri-La
Seoraksan National Park – South Korea's most renowned national park and mountain range
Taroko Gorge – An impressive 19-km-long canyon situated near Taiwan's east coast.  The area of the gorge is also identified as Taroko Gorge National Park
Yakushima – A Japanese island off the southeast coast of Kyushu next to Tanegashima and north of Okinawa. Officially a part of Kogoshima Perfecture, it is on the UNESCO World Heritage List. Though not too well-known outside Japan, Yakushima is a popular destination for Japanese tourists, which explains why the infrastructure (hotels, restaurants, transportation) is so good
Yungang Grottoes – Ancient Chinese Buddhist temple grottoes near the city of Datong in the province of Shanxi. They are excellent examples of rock-cut architecture and one of the three most famous ancient Buddhist sculptural sites of China
Plane travel is the fastest way to travel between countries in East Asia, as well as long distances within them.  Plane travel within East Asia tends to be cheap by Western standards. In this example, you'll learn how I was able to build an East Asian flight itinerary to 12 cities (3 countries) for under $750 using SkySurf.Travel!  Keep in mind, when building your own custom flight itinerary at SkySurf.Travel, prices may vary.  Flight prices change on a daily basis, so building the exact flight itinerary used in this example will not work.  You might get an even better deal than the one used in this example, or slightly more expensive, depending on the time you build your flight itinerary and travel route.  If you need assistance building a cheap travel itinerary, you can chat with our friendly online support, which can be found on the bottom right corner of the SkySurf.Travel homepage.  If live support is offline, you can leave a message and we'll reply to you as soon as possible.
Here's where I'll be traveling to in East Asia for the total price of $739 (taxes included):
Beijing, China – starting point
Yantai, China – August 14, 2017 ($51)
Shanghai, China – August 18, 2017 ($79)
Wuhan, China – August 22, 2017 ($66)
Xiamen, China – August 26, 2017 ($63)
Hong Kong – September 1, 2017 ($67)
Fukuoka, Japan – September 6, 2017 ($36)
Naha, Japan – September 10, 2017 ($53)
Tokyo, Japan – September 14, 2017 ($60)
Daegu, South Korea – September 20, 2017 ($53)
Jeju Island, South Korea – September 25, 2017 ($24)
Seoul, South Korea – September 29, 2017 ($26)
Beijing, China – October 4, 2017 ($161)
That's a total of 12 cities (3 countries).
Here's a screenshot of my SkySurf.Travel East Asia travel itinerary (BookIt List):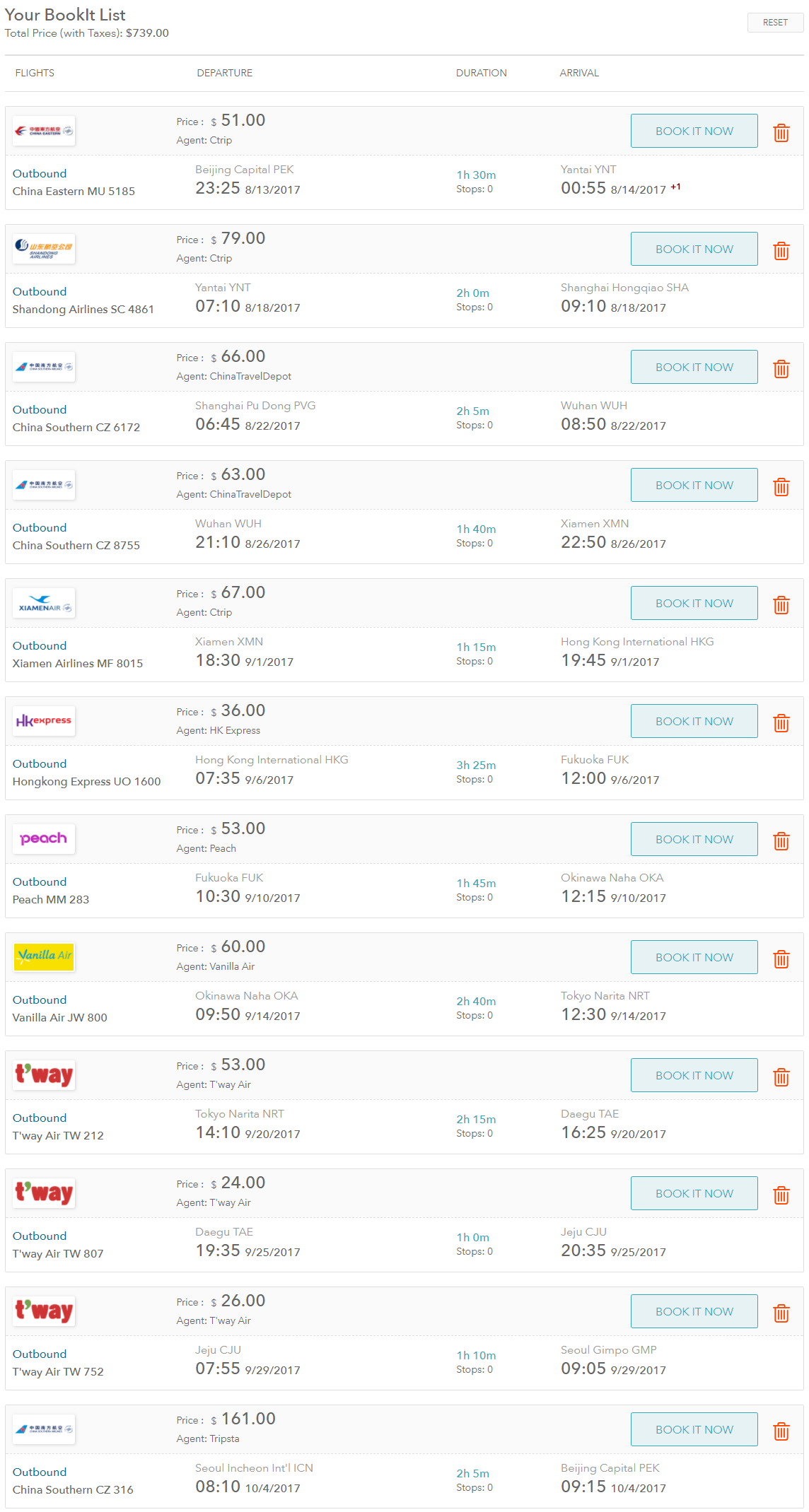 And here's a screenshot of my East Asian flight route which was automatically generated for me at SkySurf.Travel: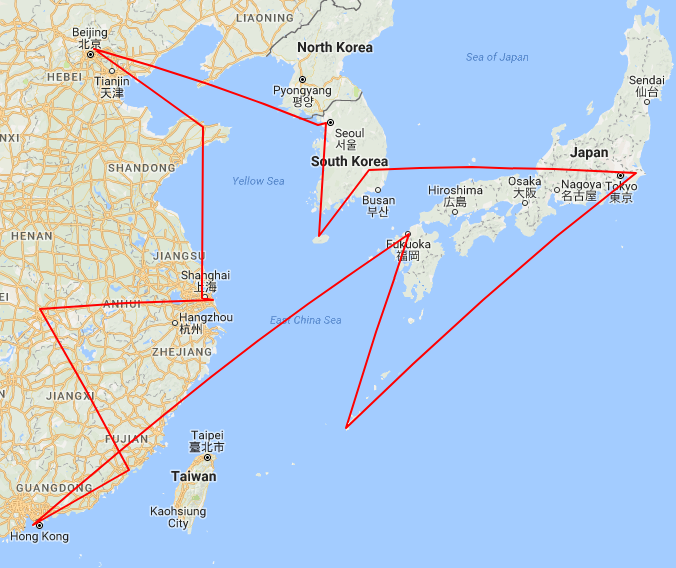 Here's how I got this super deal:
I first clicked on the "Multi-city" tab, then entered in "Beijing" in the "Traveling From" input field.  Next, I selected "August 2017" to find the cheapest flight departing Beijing, China in August 2017.  Finally, I clicked on the "Search Best Deals!" button and a list of the cheapest flights were displayed.
My cheapest flight option was to Yantai, China on August 13, 2017 for $51 USD.  I added this flight to my itinerary (BookIt List) by clicking on the "+Add to BookIt List" button.  A popup then appeared, such as the one below: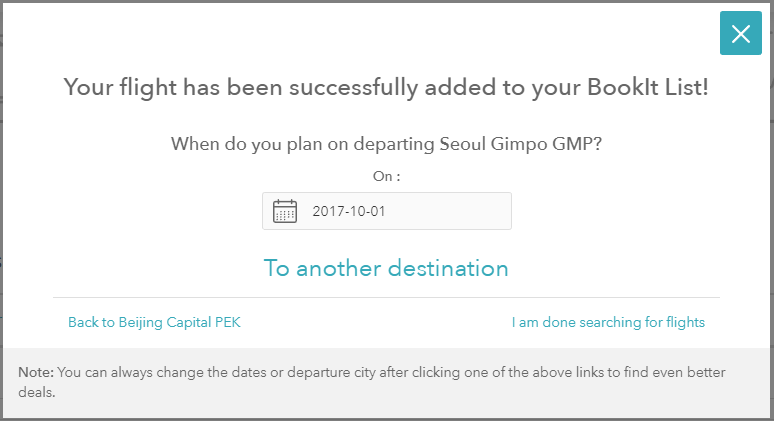 I decided to stay in Yantai for 4 nights and selected the date August 18, 2017 for my departure.  I then clicked on the "To another destination" link and new results appeared.  My cheapest option was to Shanghai, China for $79. I added this flight to my itinerary by clicking on the "+Add to BookIt List" button, and repeated the above process until I was back in Beijing, China.
Certain countries in Asia require a visa upon arrival.  Be sure to do your research before booking flights to Asia.  You may need to apply for a visa before arriving in China.  Citizens of some countries, such as Bahamas, San Marino, Serbia, Fiji, Ecuador, and Barbados do not need a visa to enter China.
East Asia is one of the cheapest places on Earth for travelers — with lodging and food offered at very low prices, particularly for long term travel or for those willing to stay somewhere other than the big resort. East Asia has something for everyone and continues to lure thousands of backpackers to its beautiful lands and people year after year.
你好
Nǐ hǎo
Safe Travels!
Gregory Rzeczko