Want to travel the world for cheaper than a round-trip ticket?
Now you can with the new super-cheap multi-city trip generator tool by SkySurf.Travel. You can travel from just about anywhere, take for example, from New York City to nine countries in Europe and back for only $750 total; or to nine states in the United States for only $450, more or less. That's cheaper than most round-trip tickets! The SkySurf.Travel multi-city trip generator currently supports these destinations: Europe, India, China, Brazil, Southeast Asia, and the United States, and it generates a multi-city trip for you within seconds.
Take a look at the below generated multi-city trip example from SkySurf.Travel: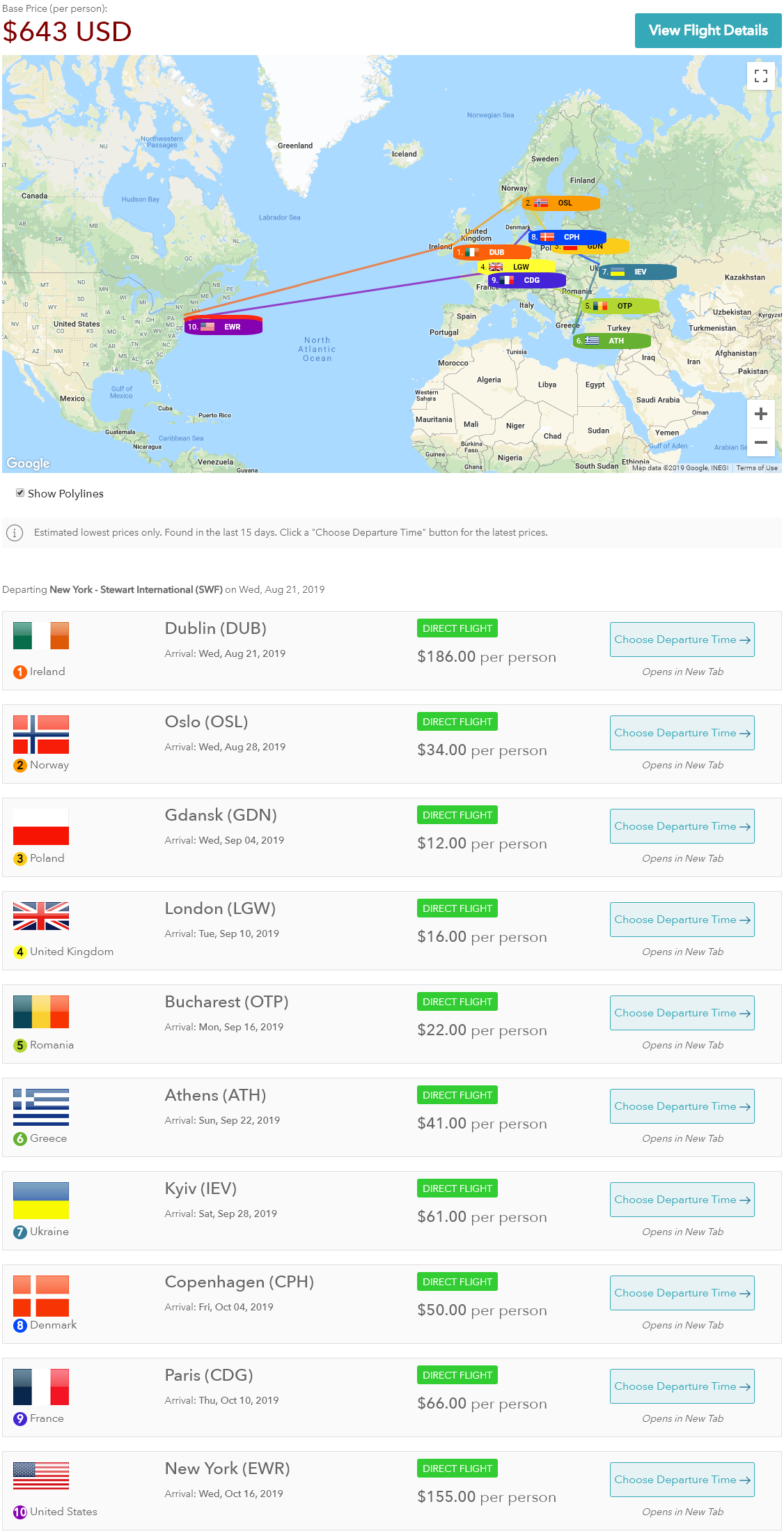 Starting point: New York – Stewart International (SWF)
Dublin, Ireland (August 21, 2019) – $186
Oslo, Norway (August 28, 2019) – $34
Gdansk, Poland (September 4, 2019) – $12
London, England (September 10, 2019) – $16
Bucharest, Romania (September 16, 2019) – $22
Athens, Greece (September 22, 2019) – $41
Kiev, Ukraine (September 28, 2019) – $61
Copenhagen, Denmark (October 4, 2019) – $50
Paris, France (October 10, 2019) – $66
Back to New York, New York, Newark Airport (EWR) (October 16, 2019) – $155
Nine cities round-trip from New York City for only $643!! All non-stop flights! That's the base price for all ten flights total, including taxes. It's straightforward to create your multi-city trip. All you have to do is fill out the form, click on the "Build my Multi-City Adventure!" button; within seconds, SkySurf.Travel will generate a multi-city trip to the number of destinations of your choosing, and Voilà, you'll get a summary of all your flights with links to book them. Depending on the total duration of your trip, the multi-city trip generator will determine your length of stay for each destination. For example, the above multi-city itinerary's departure date is August 21, 2019, with a return date back to New York City on October 16, 2019. That's a total of eight weeks (two months) total, which means you'll spend about a week in each city!
Try it out for yourself. Whether you're from Chicago, Toronto, Mexico City, Hong Kong, Warsaw, or just about anywhere, you too can create a super-cheap multi-city trip from your home airport! Start building and planning your super-cheap trip to travel the world with SkySurf.Travel today!
Safe travels!
https://skysurf.travel/multicity/
SkySurf.Travel
Read about Romanna's trip to eight cities (five islands) in Europe costing a total of $815 (flights only) with SkySurf.Travel.
Read the press release here.