This is a series of blog entries from SkySurf.Travel's first travel hiree, Romanna.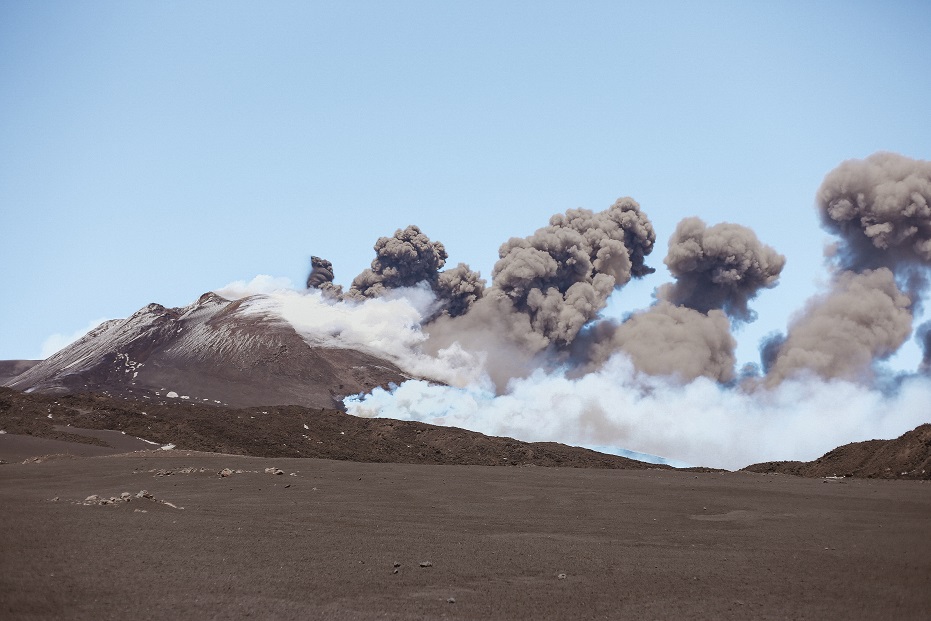 If you climbed an active volcano and at that moment it began to erupt, what would you feel? I had a euphoria!
I am so glad that we live in a time of well-developed science, we understand nature and can calculate what to expect from it. Everyone already knows that the giant Enceladus is not chained under the volcano Etna, and an eruption is not his desperate attempt to get outside – it's just that Sicily is located simultaneously above two tectonic plates of Eurasia and Africa.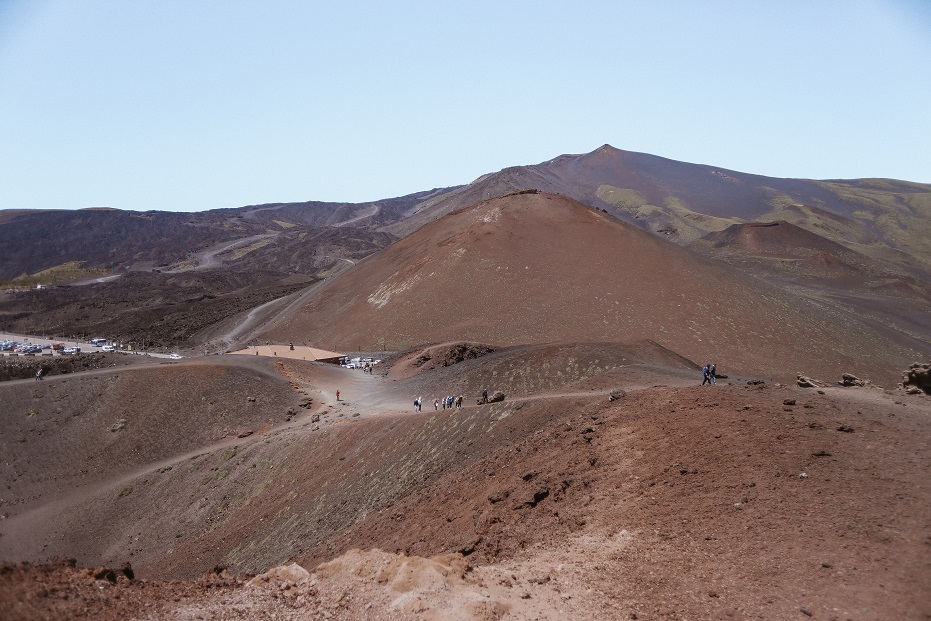 Etna's danger is a myth. Convinced, the local people have lived and will live at the foot, which is very reassuring. They even call it a "friendly volcano." Etna's eruption is not explosive but rather calm. You can observe the release of gas, ash, and smoke as the lava flows down, without causing much harm. Sometimes the force of the eruption is so strong that the ashes impair visibility for the aircraft of the airport of Catania causing flights to redirect to Palermo.
Closely monitored are the lava streams, and often people carry out work to expand the channel, even during an eruption. As soon as the news about the eruption appeared, people did not run away, but, on the contrary, they came to watch it specifically, because this is a unique spectacle. Of course, there are special security measures, depending on the activity of the volcano. So the maximum altitude for an ascent on this day was 2,700 meters, although on a clear day you can go up to 3,000 m.
There are three ways to climb Etna. There are eastern and northern routes to the volcano, but they are less touristy. The most popular course is from Catania.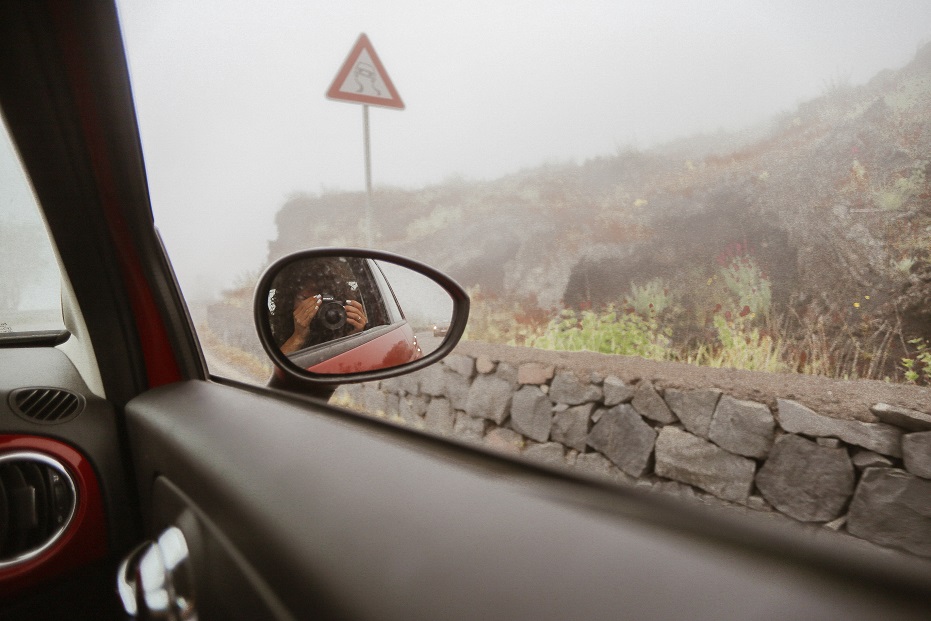 By bus, you can get to the station Rifugio Sapienza, and continue to climb on foot, or by the cable car. The last option takes you to an altitude of 2,550 meters.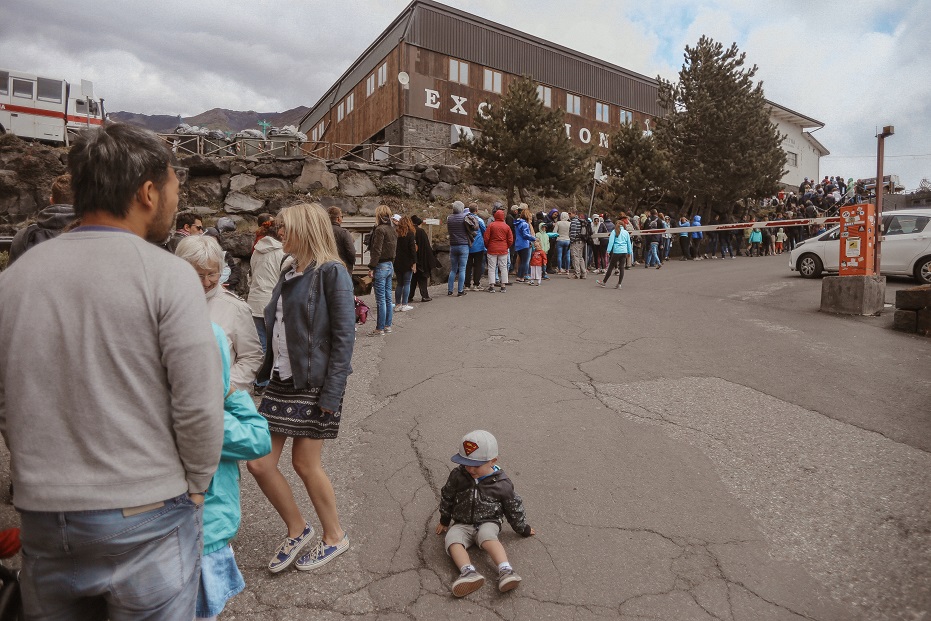 I did not have much time and bought a full ticket, which included the funicular and travel by tourist SUV. Usually, after this, you are additionally accompanied by a guide to a height of 3,000m, but on that day there was no such possibility. The ticket price is 65 euros. Even in the summer, it is necessary to prepare thoroughly for the rise of Etna. The fact is that at the top it is always freezing – that day it was only 2 degrees, and a strong wind was blowing. Of course, you can rent boots and warm jackets, but it is better to prepare in advance – take warm clothes, trekking shoes, sunscreen, and water.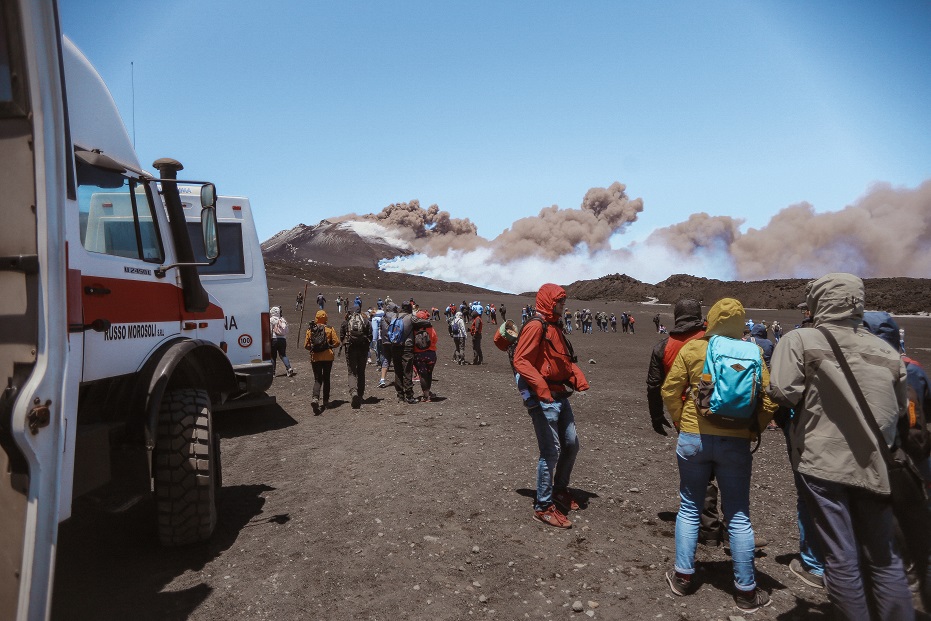 Another way to enjoy Etna with an unusual company without climbing is trekking with alpacas. Yes, you were not mistaken! Six years ago, Farmer Luciano received a call from an animal shelter. He was asked to host alpacas, which is how everything started.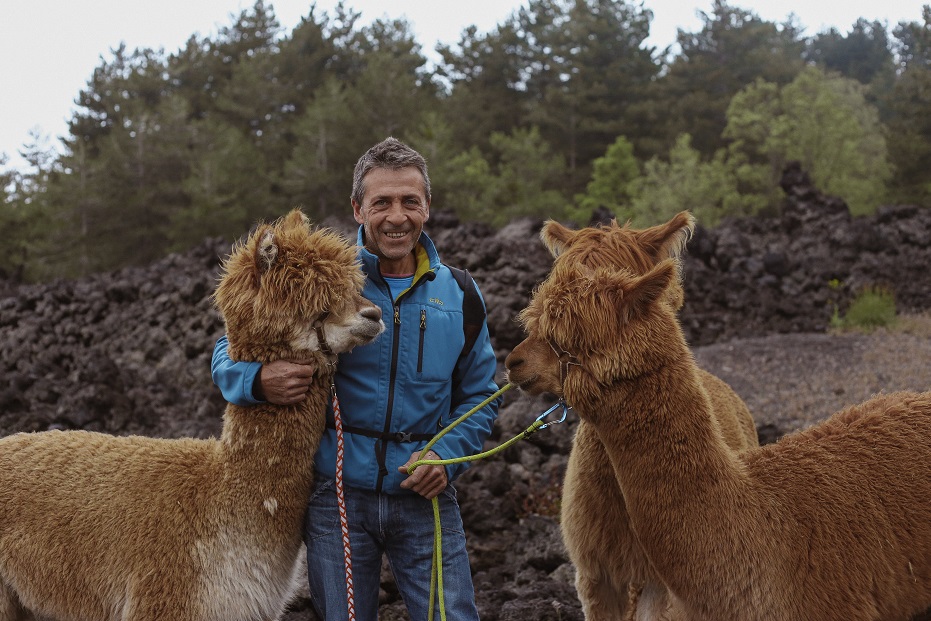 Today, it is the only farm on the island where you can meet these animals so closely. In total, there are six alpacas on the farm, but during my visit, one of them was pregnant – it is quite possible that there are more of them now!
And so, I will tell you more about my experience. You cannot get there by public transport, only by a rented car or with a person who agrees to help you. Few people know about this place, and you can rely only on geolocation on the official Facebook page https://is.gd/aJjyAZ. There is also a phone number, which we contacted and clarified a convenient time. Please note that for a quick response you need to write in Italian – so there are more chances to reach an understanding. After meeting at the farm, Luciano loaded the alpacas in a special trailer, and then you go to the Piedmont of Etna.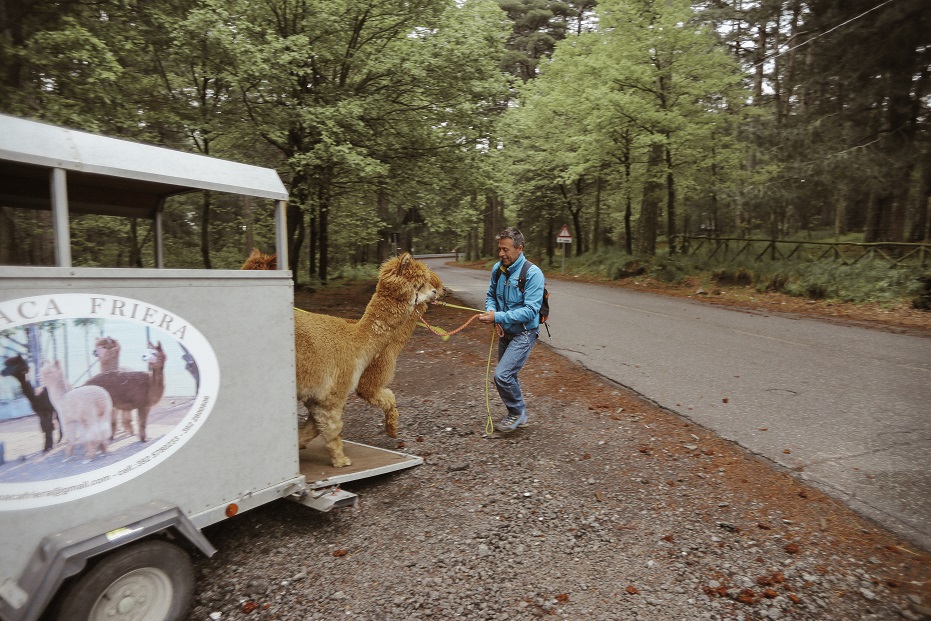 There, you will be given your alpaca on a leash, and you can enjoy walking in the forest for about three hours. I want to assure everyone who cares about animals – this is a very peaceful experience. You go near the alpaca, while it eats grass and the leaves of trees.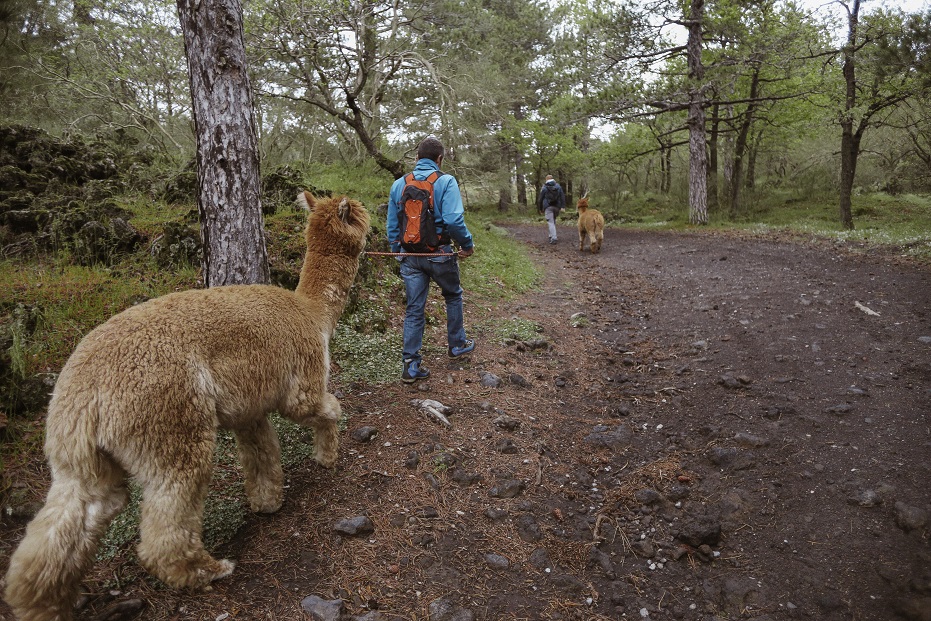 The animals are not skittish, but you can hardly cuddle with them. This experience was my first meeting with alpacas; I was amazed by their calmness and incredibly soft fur. These are herd animals; therefore, you should not worry that they will run away. Moreover, they love their master and are very attached to him.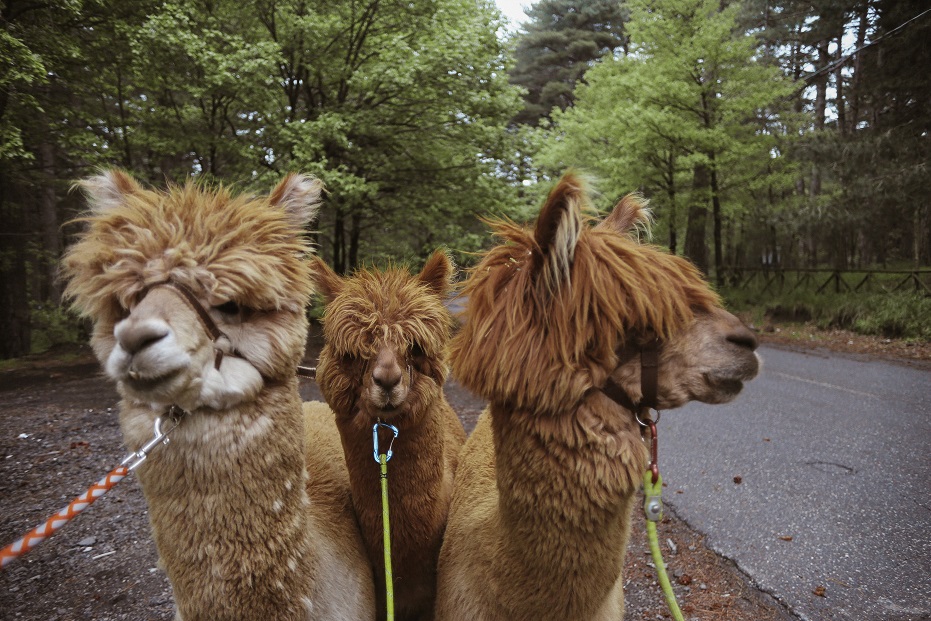 Frankly, the emotions from the walk were even stronger than from a volcanic eruption. If you are in Sicily – trekking with alpacas must be included in your plans! The cost of trekking is 20 euros.
Let's go further to the Tirana Sea. Included in the UNESCO World Heritage List, the Aeolian Islands is an archipelago of volcanic origin. There are seven islands in total, the most popular being Lipari, which is also the most populated island; Stromboli – a small island with an active volcano that erupts every 15-20 minutes; and Vulcano, which is the southernmost island with several volcanic craters.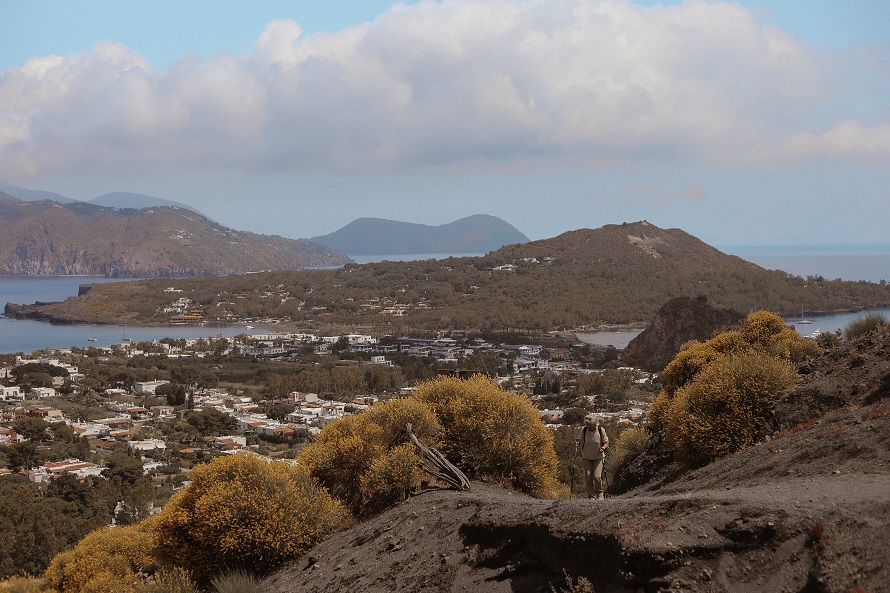 Many companies offer excursions to the Aeolian Islands and even combine several island visits in one day. But I decided to go on my own since I only had one day. From Catania, I took the train to Milazzo; the journey took 2 hours. The fare is 8.5 euros. Upon arrival, I walked to the port and bought a ferry ticket to Vulcano. The cost of tickets depends on time. My ticket cost was 18.90 euros.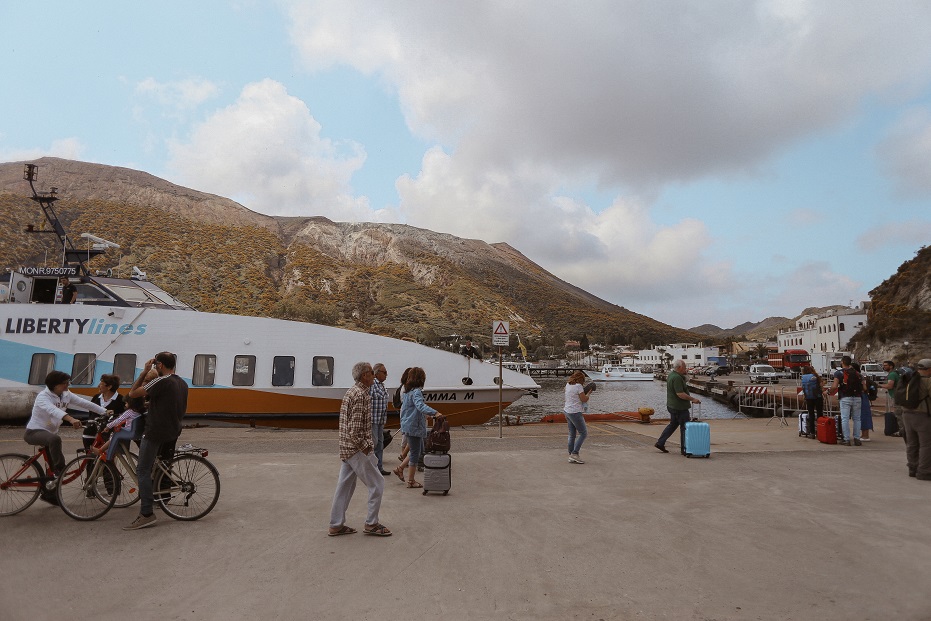 From the first seconds on the island, you feel the smell of sulfur. Do not worry; you get used to it very quickly. For half an hour you walk to the Piedmont of the volcano. I advise you to stock up on water and snacks, as the road will be a challenge. The route is short, but very often the road leads sharply upwards, or obstacles appear on the way. Amazing flowers are covered everywhere. At first, I wanted to take photos of every bush. Rising above, there are fewer plants, but the view is more and more surprising. The best view is on the top – here you can see the nearest islands, where you can not believe your eyes. Is it real?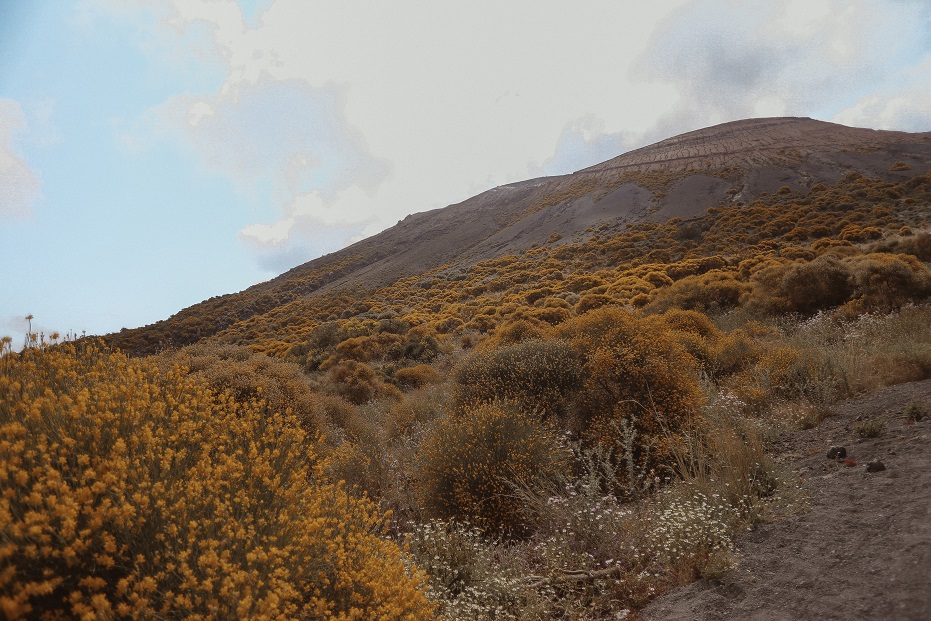 On the approach to the crater, the smell of sulfur is getting stronger. Here you can see how thick is the gas that goes out from the fumaroles. I sat and watched it for 15 minutes, what an incredible phenomenon!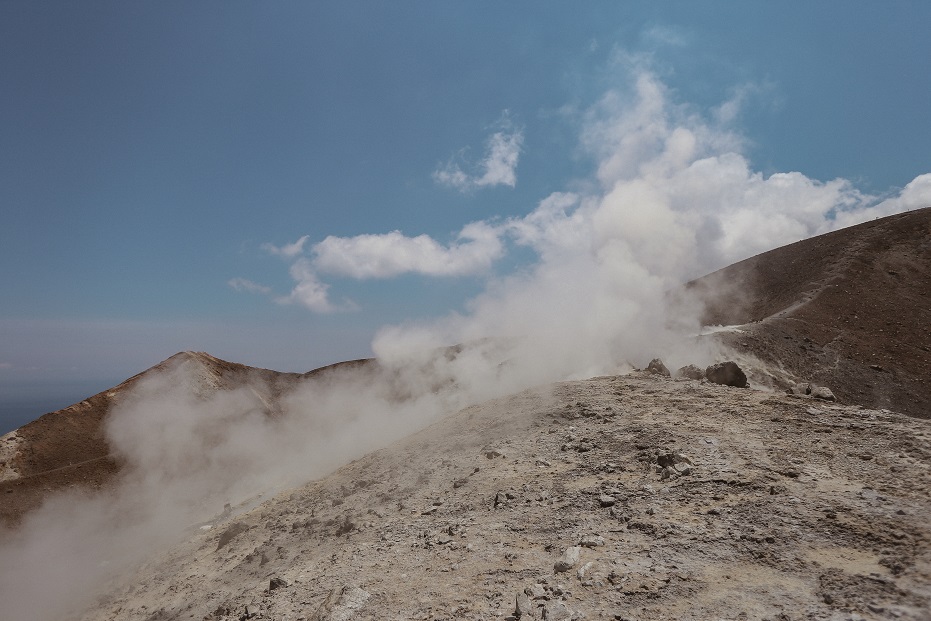 If you are not in a hurry, I advise you to go around the crater in a circle and climb to its highest point. But don't forget – the way to this place took more than five hours, and if you need to come back to Catania this day, you should keep an eye on the time.
Every new day is better than the previous one. New impressions, new people, new places – all this causes euphoria and makes me look forward to the next direction. Today we say goodbye to hot Sicily, and very soon I will tell you about my adventures in Portugal.
See you soon!
Previous post: Sicily (Part 2) – Things to Do in Sicily – Romanna's SkySurf.Travel Adventure
Next post: Discovering New Countries – Part 1 of Romanna's Trip to Lisbon, Portugal
Romanna's trip to eight cities (five islands) in Europe cost a total of $815 (flights only).  To build your own cheap multicity itinerary, visit SkySurf.Travel.
View more photos of Romanna's European SkySurf.Travel adventure on Instagram
To read more of Romanna's SkySurf.Travel adventure blogs, click here.