This is a series of blog entries from SkySurf.Travel's first travel hiree, Romanna.
Imagine, you came to Santorini, already walked through Oia, and saw the most beautiful sunset. What to do next? In this article, I will tell you ten unforgettable things to do in Thira island.
1. Watch the Star Sky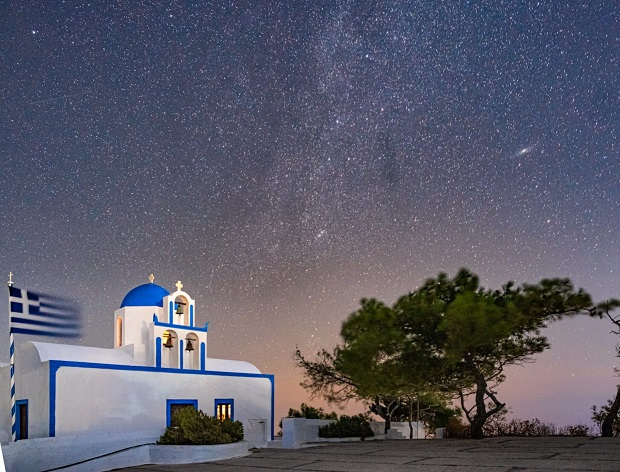 I have never seen such beauty before! Due to the size of the island and small population, there is no intense light as in the big megapolis. So you can go to some high ground and see a perfectly clear sky. Of course, if there are no clouds at this moment. Please be careful with night driving – all leading to the top roads could be dangerous during the night time.
2. Relax on a Black Beach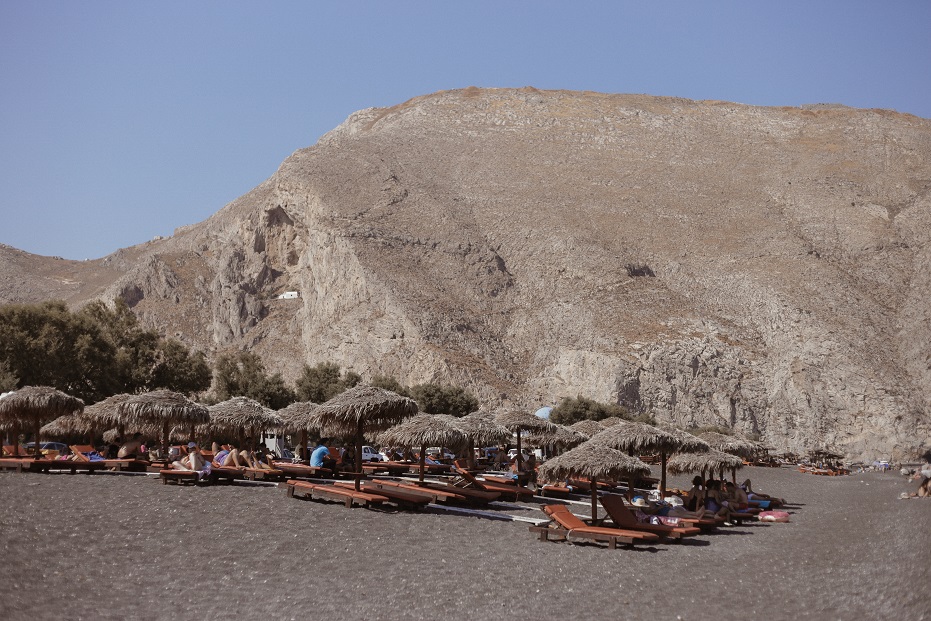 Perissa Beach or the Black beach is the longest and the most popular beach on the island. It is 8 kilometers long, starts under the mountain which protects visitors from the wind. Here you can find tons of restaurant and cafes, almost all of them propose their sunbeds so you can have a free place to hide from the sun. The usual price is 5-10 euros per person, but sometimes you could find a free one. To get to the beach, take a bus from Fira to Perissa city.
3. Get Lost in Imerovigli City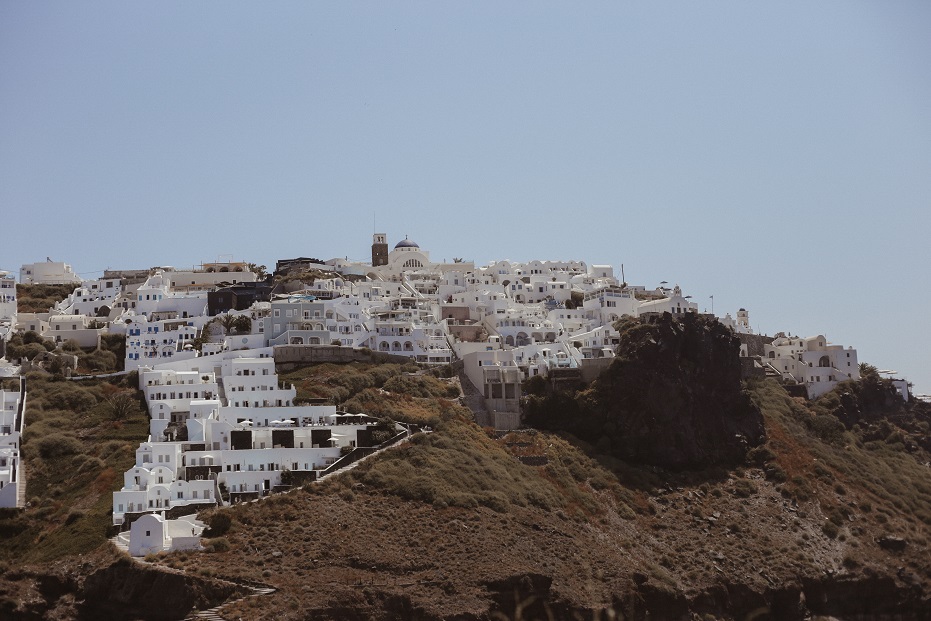 In my opinion, Imerovigli is as beautiful as Oia city. At the same time, there are no crowds, prices are lower, and you still can see caldera view in front. Moreover, you see the nearest island, cliffs, and even Oia! Imerovigli is very authentic, with blue-domed churches and typical Cycladic architectural style houses.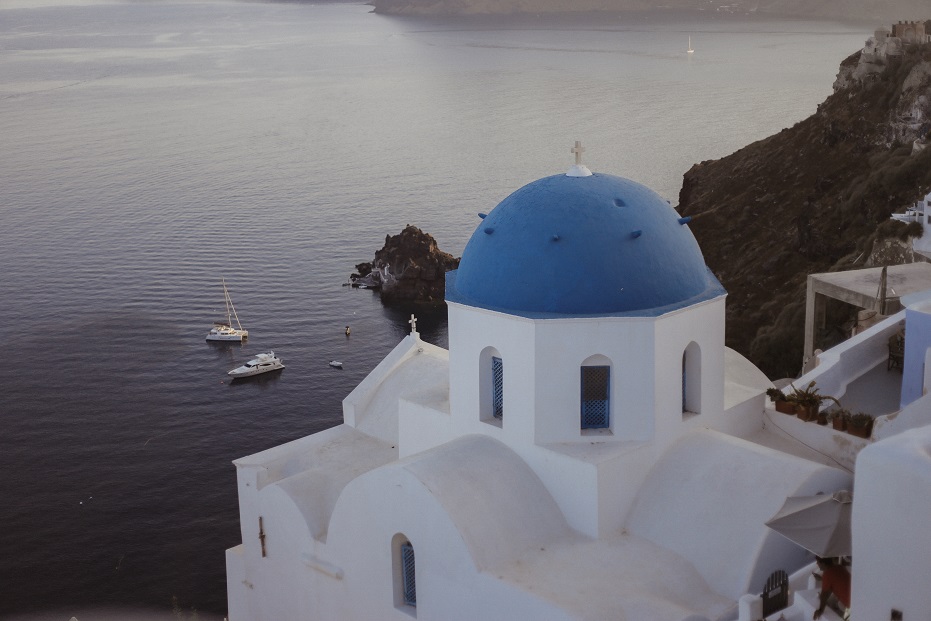 Do you know why all the buildings in Santorini are white and blue? The Greek ex-prime minister Ioannis Metaxas ordered to paint houses in these colors as a symbol of the white waves of the Aegean Sea and the blue of the Greek sky in 1936. Besides this, white walls save the climate inside buildings by reducing sun absorption.
4. Walk Through the Pass From Oia to Fira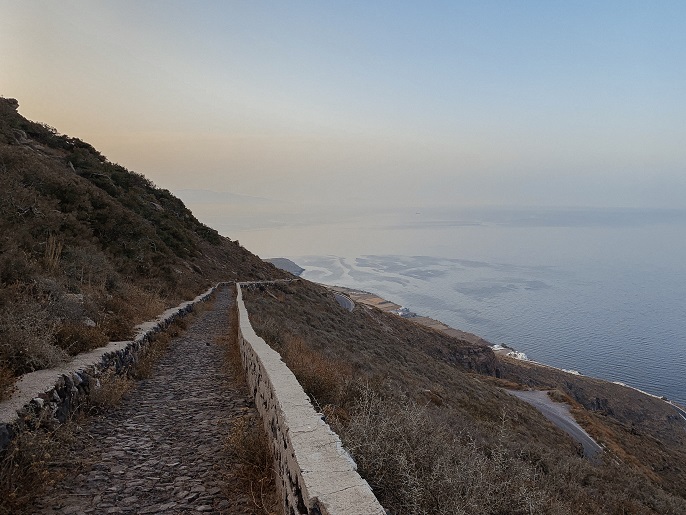 You thought all you can do in Santorini is swimming in a swimming pool, watching sunsets and sunbathing on the colored beach? I had a hunch that this is not the whole list of activities, and found a walking pass from Fira to Oia. It is nearly an 11 km long trek on the edge of the caldera. This pass goes through Imerovigli and Firostefani cities, and you can stop wherever you want if you feel tired. I decided to do it in reverse due to the daytime heat and the number of tourists in the evening in Oia. So I arrived there at 6 pm – at this time all the tourists start coming to take the best places for the sunset. But not me – I went out of the city. Firstly it is quite hard to go because it is still sweltering. But in an hour it gets a colder and fresh breeze from the Aegean Sea which makes you feel awesome. It took me 4 hours with a few stops to take photos, and one big stop to enjoy the sunset. At 10 pm, I came to Fira and was extremely happy – it was a fantastic experience!
5. Try Local Food
| | |
| --- | --- |
| Traditional bakery snack – a sandwich with feta cheese, tomato and olives | Dinner in a tavern – seafood, greek salad, and potato |
All places in Santorini are targeting tourists. To find a traditional Greek tavern for locals is difficult, but possible. You need to go to the not very touristic villages and ask for a lovely place to eat. Of course, there is lots of seafood and fish. Usually, one dish costs 8-16 euros, depending on the place, size, and product.
| | |
| --- | --- |
| Fried squid | Traditional greek dish from eggplants – Musaca |
It is a great idea to go to some restaurants (not fancy) in the evenings and at other times to prepare food by yourself (if you rent an apartment and you have a kitchen). Prices in supermarkets are almost the same as in European cities, and it is a way to save money.
The most popular street food is Gyros. It is a local kebab in a pita. Usually, it cost 2.5 euros or 5 euros for a super big one (30 cm!). It is a quick and delicious food to satisfy your hunger.
6. Watch the Sunset Near the Lighthouse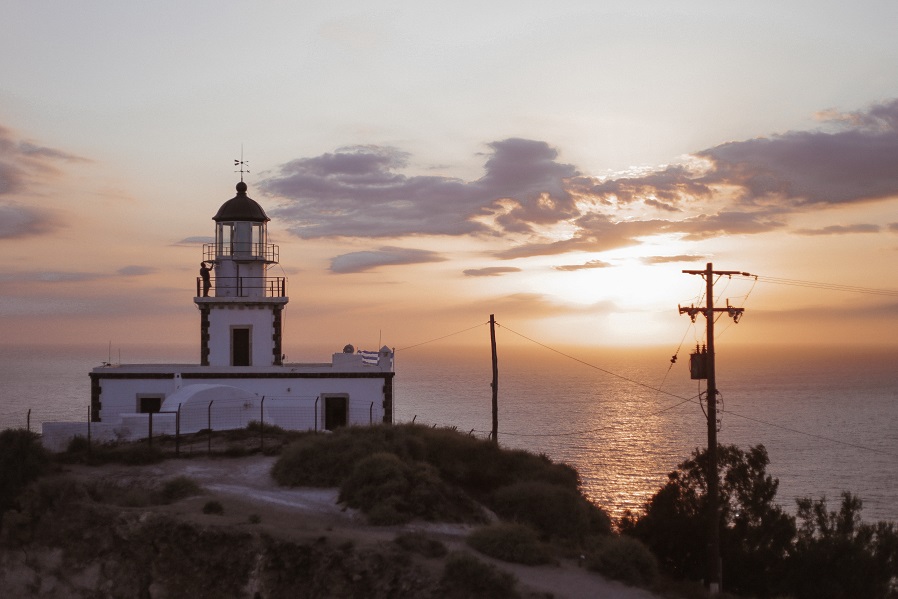 My local friend told me two years ago it used to be a quiet and romantic place where you can be alone with nature's beauty. Nowadays lots of people are coming there in the evening but it still worth visiting! You could get to the end of the island by bus, but after the sunset, there will be no more buses. So you need to be ready to catch a car or go by foot (too far for a night walk).
7. Climb the Skaros Mountain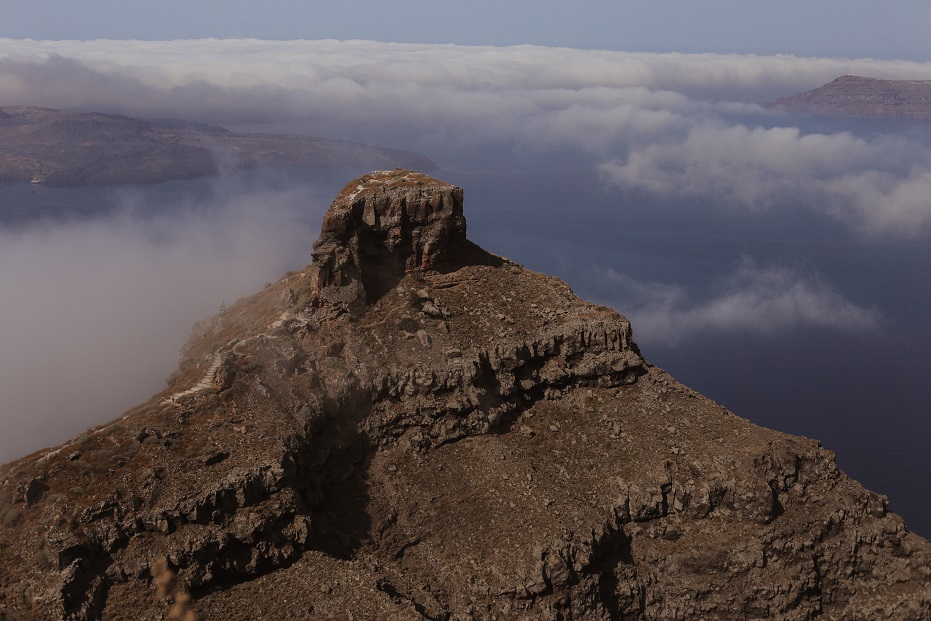 Located near Imerovigli, this mountain is one of the best places to watch the sunset. You need to be prepared to climb over 3 meters of sheer cliffs! So you need to have comfortable shoes and clothes. It is not very hard, but for me, it was a surprise.
It used to be part of the city before, one of the most affluent areas with beautiful buildings and a Venetian Castle. Unfortunately, after the earthquake in 1956 the whole area, named Skaros, fell to the sea and the mount is the only thing left in that place.
8. Find the Fog Over the Cliff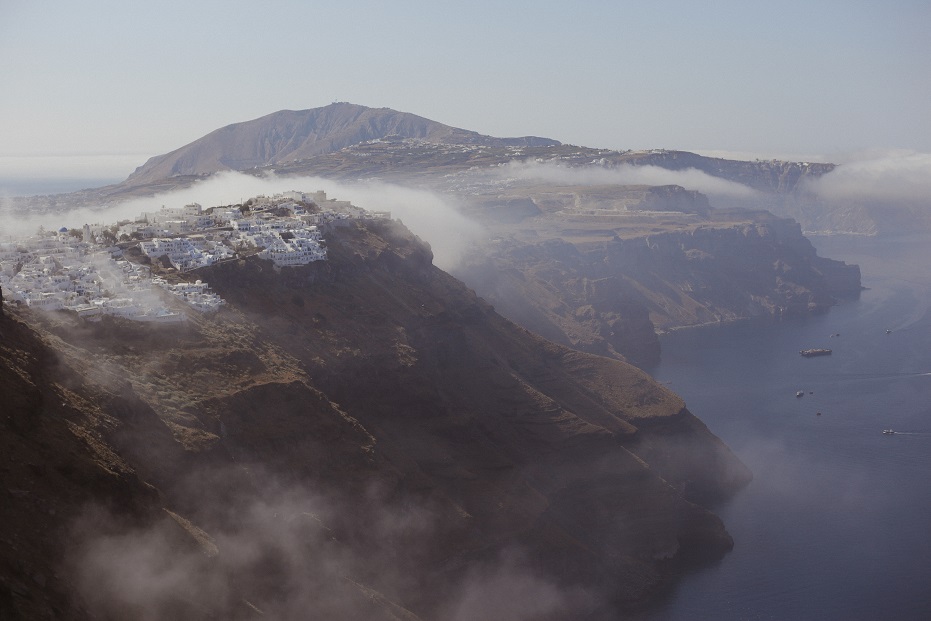 A breathtaking view! I need to tell you it is not an everyday phenomenon. I was lucky to see it twice – once in Fira, and once near the Imerovigli city. Imagine – you stand on the top of the hill, and there is the fog below. It is moving so quickly, changing directions, getting over hills, and moving forward. I could not believe it could happen in Santorini!
9. Climb the Profitis Iliаs on the Sunrise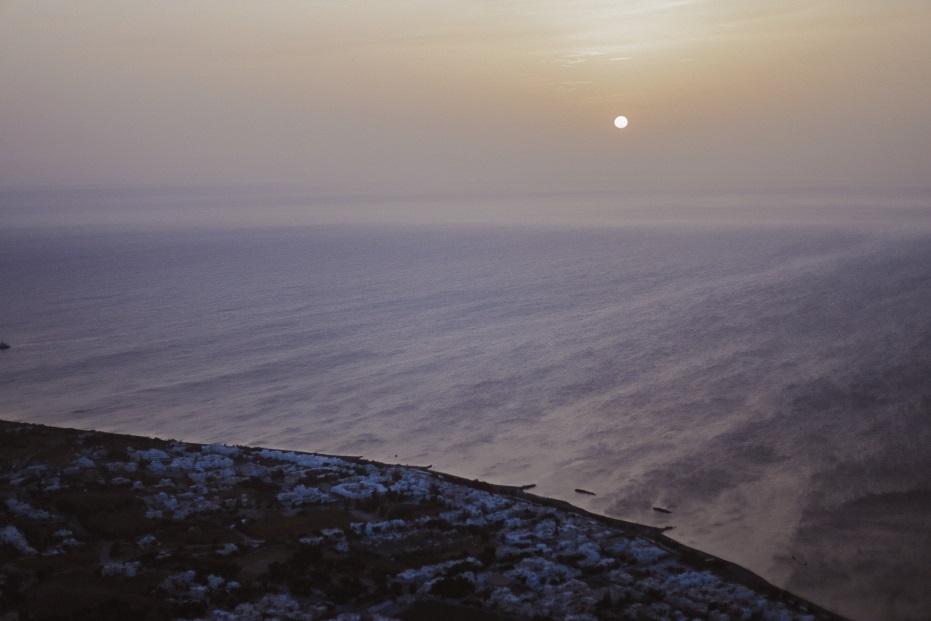 The highest mountain on the island has a monastery on top, named after Profits Ilias. I climbed to the top, not for a religious purpose. I wanted to see how the island wakes up. It took one hour to get to the top and enjoy the view.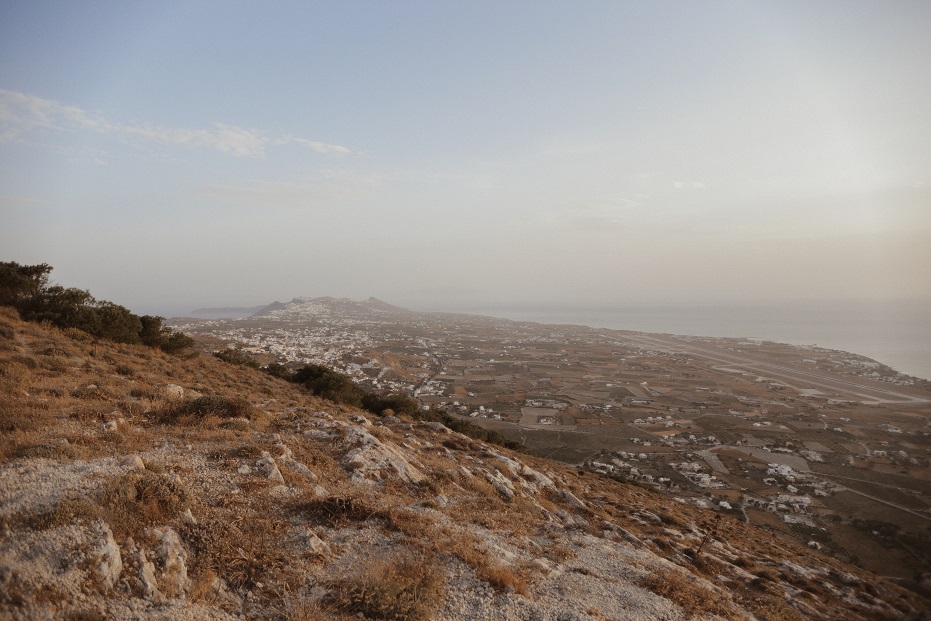 The significant fact is no-one will do the same. I spent an hour on the top, and halfway back, I met the first person who was going up!
10. Find the Red Beach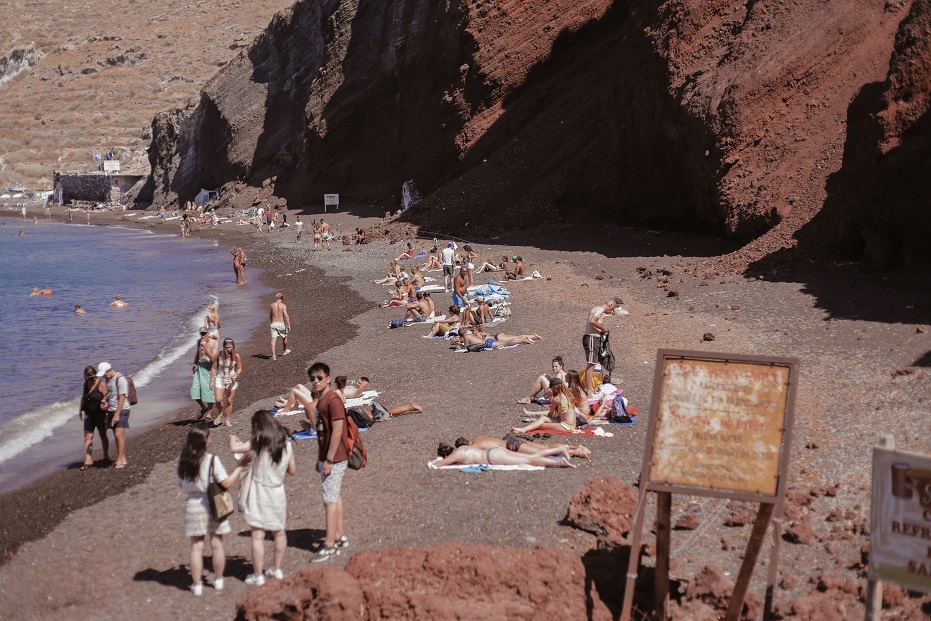 One more place to enjoy the Aegean Sea – the Red Beach. It is incredibly tiny in comparison with the Black one. It has received its name because of the color of the cliffs over the beach. It is not very safe to be there – there is a sign – danger zone, but it does not stop anyone. If you want to swim there, I advise you to take aqua-shoes; otherwise, it is too painful to go into the water because of the rocks.
– Romanna
Previous post: Overvalued or Not? the Real Santorini Situation
Next post: What to Expect from Athens, Greece
Romanna's trip to eight cities (five islands) in Europe cost a total of $815 (flights only).  To build your own cheap multicity itinerary, visit SkySurf.Travel.
View more photos of Romanna's European SkySurf.Travel adventure on Instagram
To read more of Romanna's SkySurf.Travel adventure blogs, click here.