This is a series of blog entries from SkySurf.Travel's first travel hiree, Romanna.
The most publicized place in all of Greece. White houses you saw on thousands of pictures, ads, photos, and greeting card. I thought the whole island looks like this picture. White walls, blue roofs, and windows – that was all I knew about this place.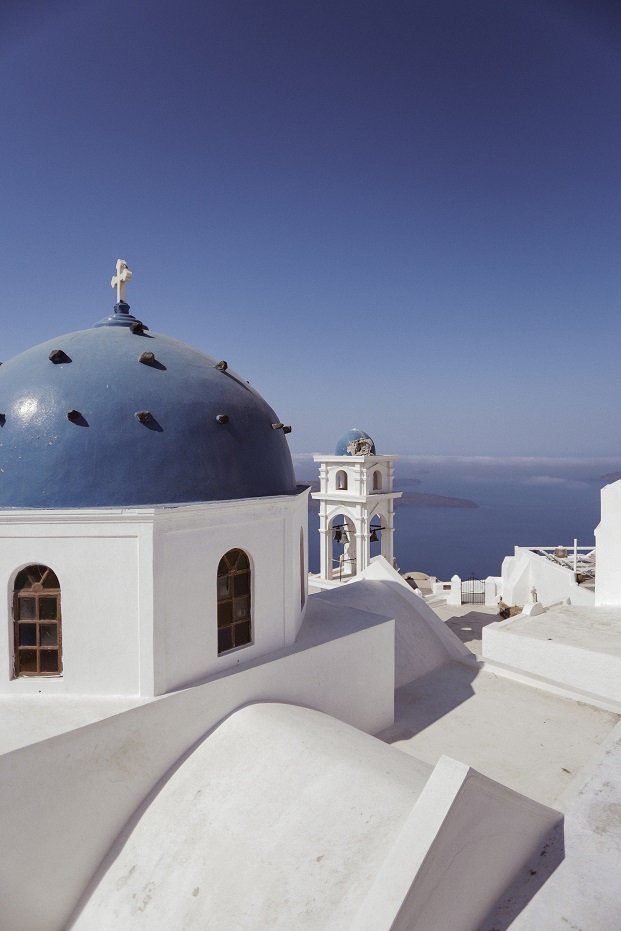 Could you imagine what I was thinking during the first ride through the island? After those fairy expectations, all I saw were cliffs and not many attractive villages.
Is it all fake? The truth is every touristic company, the bloggers, and magazines show us only a few spots – the most popular and beautiful places of Santorini.
Fira
Fira is the capital of Santorini. Do not confuse it with Thira – the real name of the island.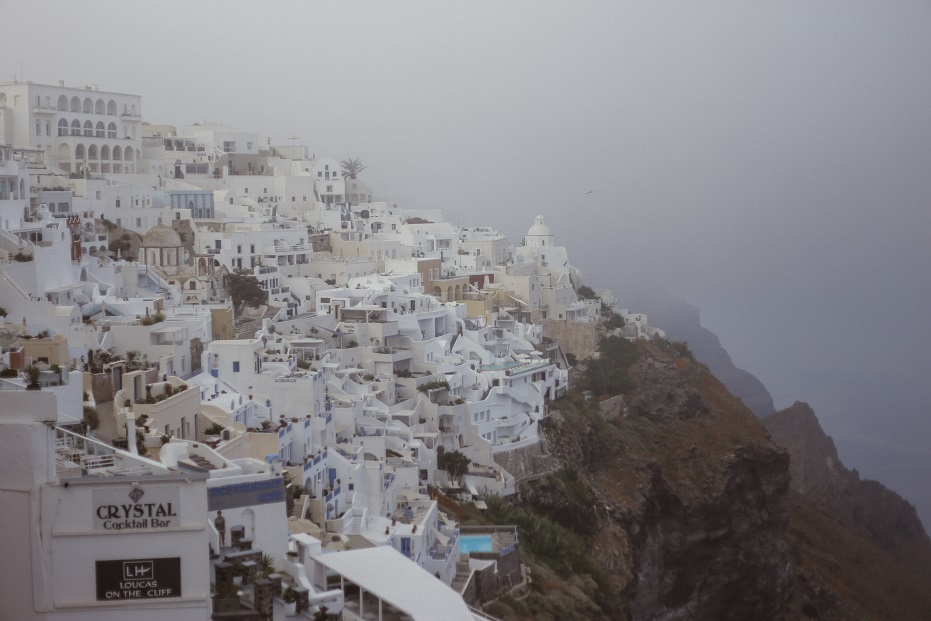 It is almost impossible to miss the visit to this city. Firstly, it is situated almost in the middle of the island. Secondly, in Fira is the central bus station and all the buses come here. (Hope, you remember that all routes start from Fira. If you want to get from East to North of the island, you need to get to the central bus station and catch another bus). Thirdly, it is the heart of Santorini. It is not very picturesque, but here is the biggest group of needed facilities like shops, supermarkets, small and cheap cafes, pharmacies, and an old port where you can take a boat excursion.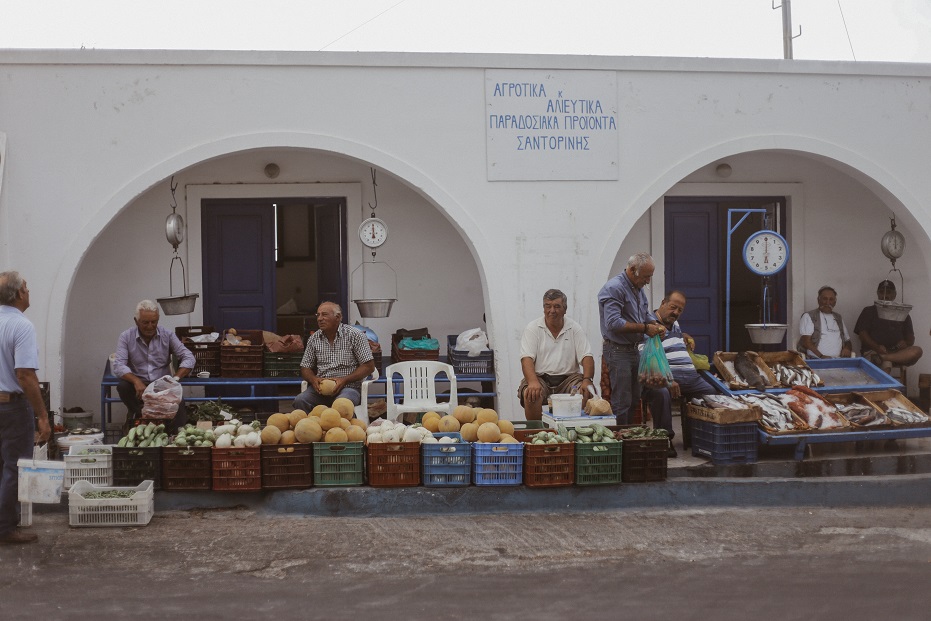 Interesting fact, to get to the city from the port you need to choose one of the following three options: the Cable Car which goes up once every 20 minutes and there is a huge queue, to be brought up on mule (donkey), or to go up on foot (500 stairs!). In the last option, you need to share narrow stairs with mules and their smell – I warned you!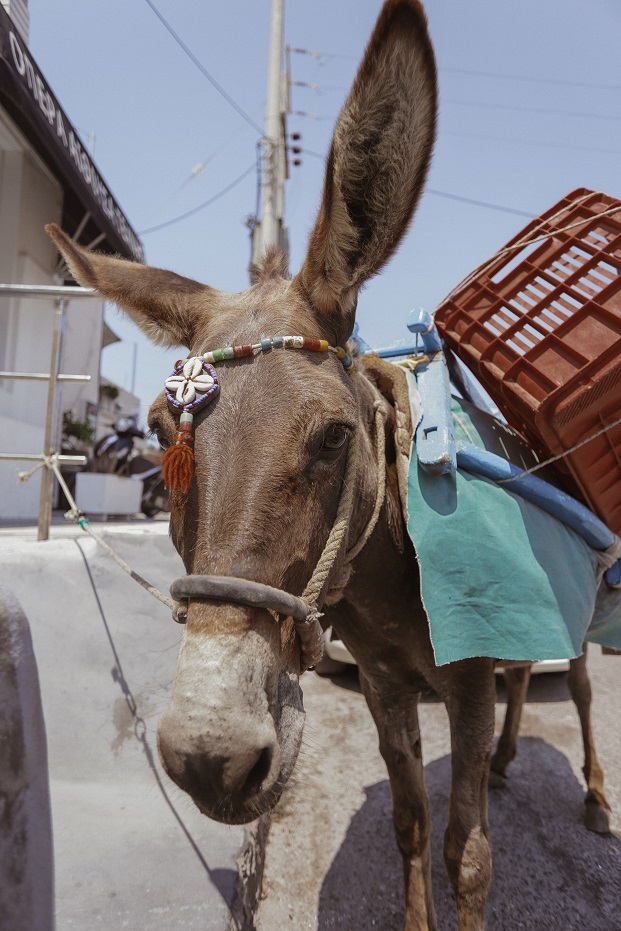 Oia
A real fairy tale! The first time I get to Oia, I could not believe my eyes! It looks like all those pictures on the Internet. Yes, all those white houses are real. And they are situated near each other. You can not understand if they are all separated or if it is one colossal lego construction.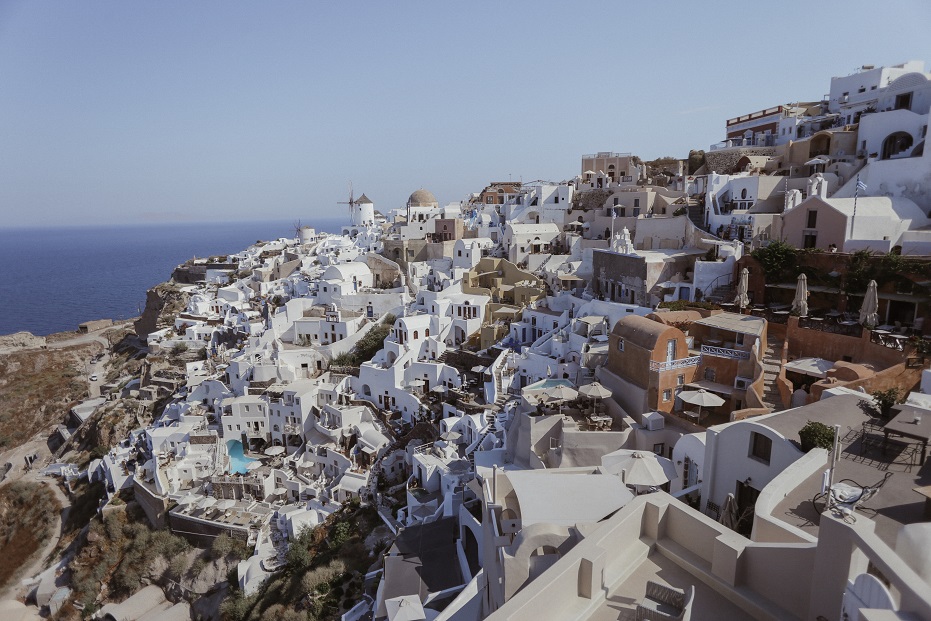 Do you know that feeling on a sunny winter day when you look at snow, and it blinds you? The same goes here; you can not look at them without sunglasses.
There are almost no locals in Oia – it is the most popular city. The most expensive hotels, restaurants, and shops are here. All because of the caldera view. The word caldera means a volcanic crater formed by eruption leading to the collapse of the mouth of the volcano. Santorini appeared after this eruption – if you look on a map, you can see the island has a form of a crescent. Places, where you can enjoy the caldera view, are overpriced. Apartments with infinity pools, all tables in restaurants – all of them are booked in advance and for huge prices!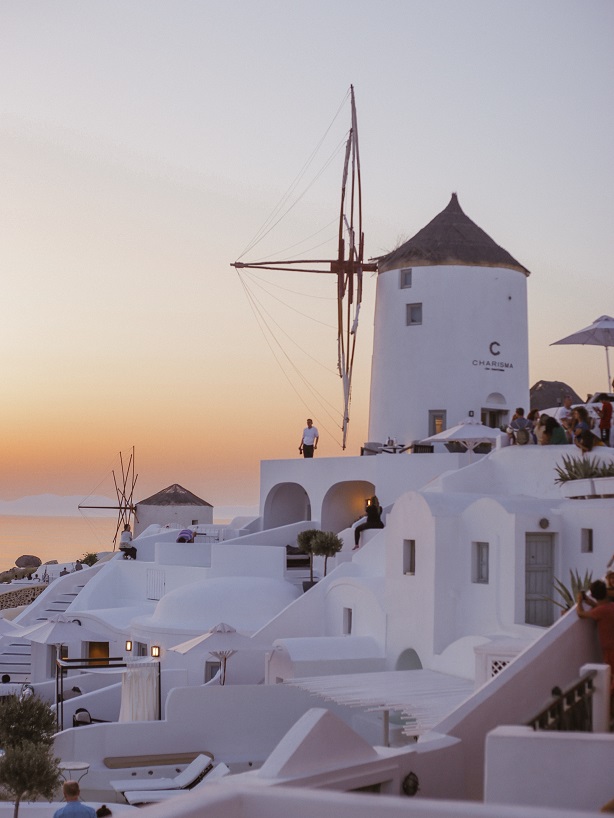 Besides small and same type houses, there are huge windmills – you can see them in the best light while the sun sets in Oia. If you want to see the best sunset, you need to be prepared for it morally.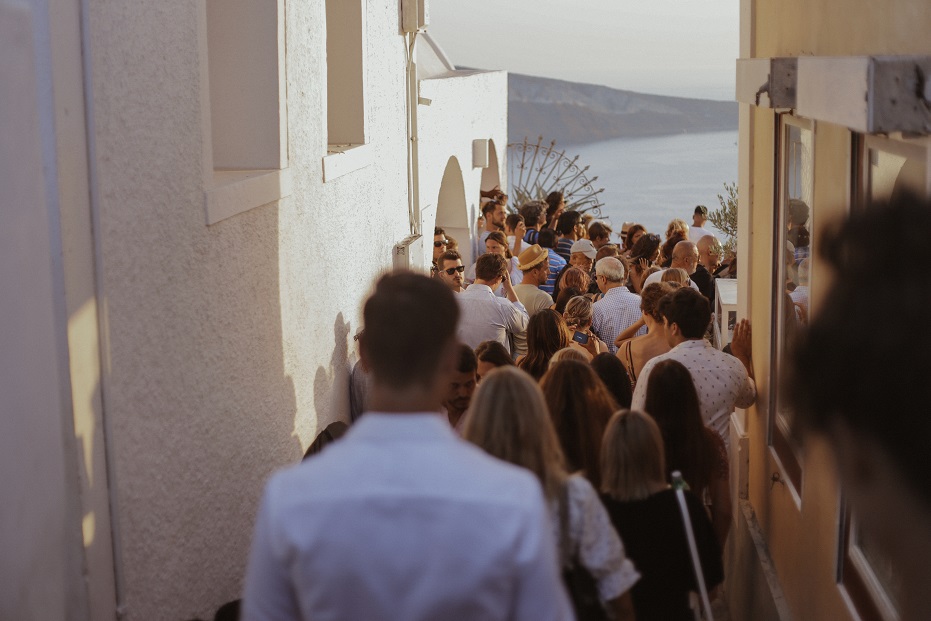 The fact is, almost all people on the island want to see it with you. Oia is a small city, but the part with the sunset view is tiny, which brings us to an annoying situation. Imagine caldera view, windmills, the Aegean sea, yachts, sunset, a fantastic sky color…. And a thousand people near you. They are not standing somewhere near you – they almost touch you because there is no place for such an amount of people! Feels like you are inside an anthill. Oh, that was one of the best and the worst memories at the same time.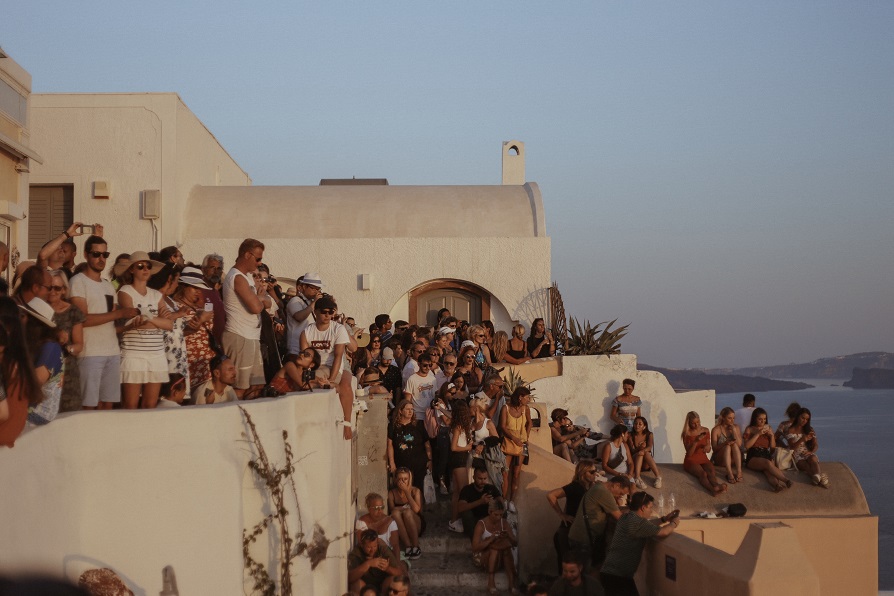 A funny tradition I had never seen before – at the moment when the sun went down, everybody claps!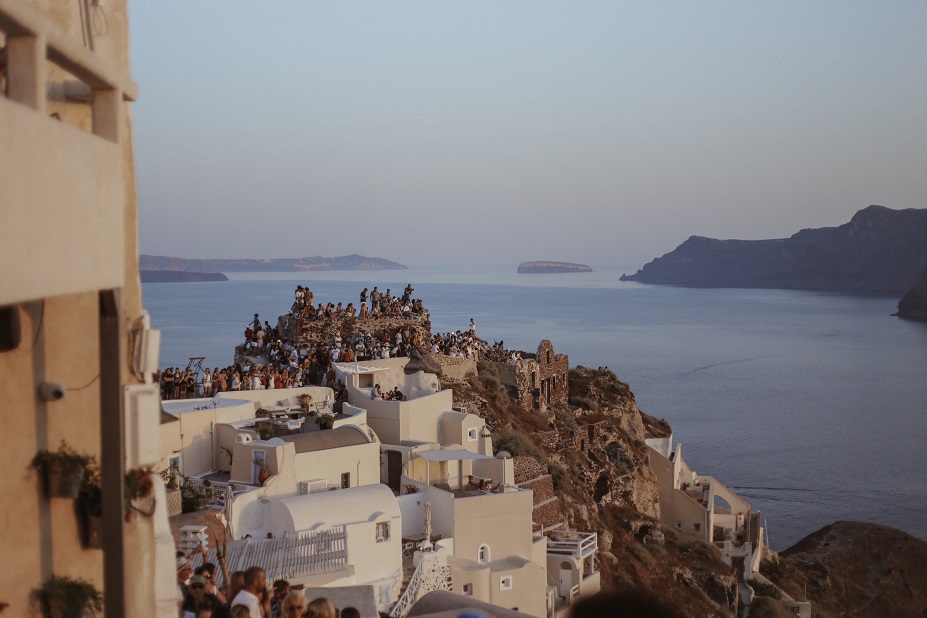 It comes as no surprise Fira and Oia are a touristic city – you can not even imagine how it is possible to live there permanently. A strong earthquake in 1956 almost destroyed both of them. Reconstruction of those cities occurred for tourism due to their location on the edge of the caldera.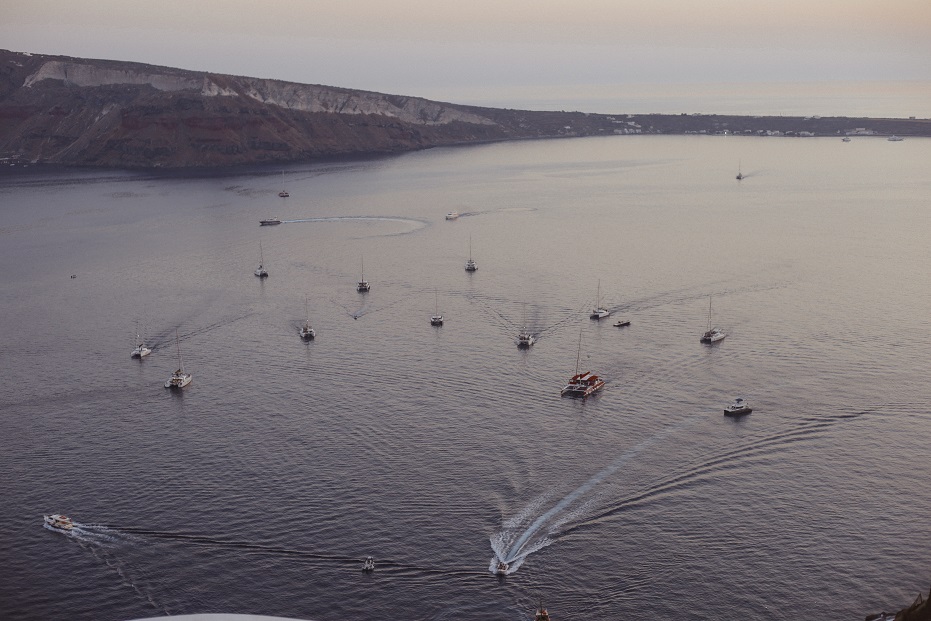 It is almost impossible to meet locals in Santorini. There is no manufacturing on the island. The only opportunity to earn money is to work with tourists, and this work is hard and not very well paid. Almost all the workers migrated from other Greece islands or even countries. I was shocked; these people work without weekends off! The season lasts for eight months – from March to October. During the off-season, closed are the hotels, restaurants, and shops, as well as no ferries and almost no flights. All people leave the island and wait for the next season. So can you imagine how to work eight months without rest? Once I met a barman who works from early morning to afternoon, then he has a few hours to rest and one more evening shift till 2-3 a.m. And he works every day! You need to know they do not have extra pay for night shifts and weekends. Leisure for some people is hard work for others — a big difference between living there, and a one-two week vacation.
– Romanna
Previous post: Dream Island Santorini
Next post: 10 Best Things to Do in Santorini, Greece
Romanna's trip to eight cities (five islands) in Europe cost a total of $815 (flights only).  To build your own cheap multicity itinerary, visit SkySurf.Travel.
View more photos of Romanna's European SkySurf.Travel adventure on Instagram
To read more of Romanna's SkySurf.Travel adventure blogs, click here.