Update: This travel job has closed. We are not accepting any more applications at this moment. Congratulations to Romanna from Ukraine! (April 10, 2019)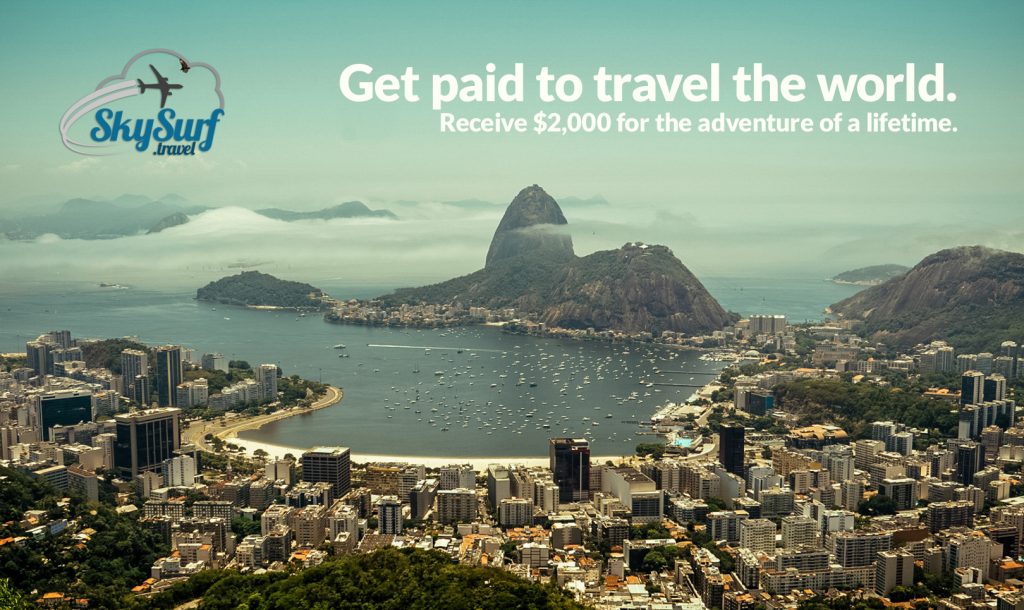 Want to travel around the world and blog about your adventure? Now's your chance. SkySurf.Travel is looking for a travel blogger to travel the world. The selected applicant will receive $2,000 for the adventure of a lifetime.
All you have to do is:
Create a two-month multi-city flight itinerary at
SkySurf.Travel

Write a short cover letter and record a short video

Send us some work samples (blog, photos, videos, etc.)

Have 2 months available for some travel work
The two-month multi-itinerary flight itinerary total must be under $2,000 at SkySurf.Travel from your home airport.
To apply, write a short cover letter (3,000 characters or less) with a video (one minute or less) as to why you should get hired for this job, along with any blogs you have written in the past or are currently working on.  You'll also need to be taking photos and recording video, so if you have any photo and/or video work, make sure to include those as well.  All applicants must apply to this Upwork application.
Deadline entry for this application is in two months: March 31, 2019. An applicant will be chosen based on the best cover letter, video, and prior blog writing work. The selected applicant and SkySurf.Travel will be bound to a contract at Upwork.com, so you must have an account at Upwork.  You will be paid via Upwork before every flight, so if your multi-city itinerary contains 8 flights, there will be 8 milestones; each milestone will cover your flight and accommodation.
Your departure date must be before May 24, 2019, and your trip duration must be at least two months.  If you happen to build a multi-city itinerary for cheaper than $2,000 at SkySurf.Travel; great! You will still receive the $2,000.  For example, if you can build a multi-city itinerary for $600, you'll have an extra $1,400 you can use for accommodation or anything you please. Once an applicant is selected, the Skysurf.Travel team can help him or her build an even cheaper multi-city itinerary upon request. Ideally, we would like to have someone fly to 8 different cities (one city per week).
The selected applicant will then blog (800+ words each blog post) in English about his or her adventure with photos, videos (vlogs), and
Instagram stories, writing about their experiences and suggesting handy travel tips, three times a week. That's a total of 24 blog entries. The blog entries must include local food, culture, nightlife, nature, transportation, and ways to stay on budget. Your adventure blog will be featured here at the SkySurf.Travel blog.
If you have any questions, please contact us via Upwork messenger or the contact form, which can be found in the footer of the SkySurf.Travel homepage.  This job is open to anyone from around the world who is 18 years of age or older and can write in the English language. Make sure to sign up to the SkySurf.Travel newsletter at the homepage to receive job updates to your inbox.
Tips on How to Travel the World for Really Cheap in Two Months for under $2,000
The purpose of this Round-the-world trip is to show people that it doesn't require a lot of money to travel the world. In this case, for less than $2,000 (the average cost of a single round-trip flight ticket with accommodation) for flights to several destinations in one trip, using the SkySurf.Travel tool.
SkySurf.Travel is a website for flexible travelers to find the cheapest flight deals to various destinations around the world. You can create the cheapest round-the-world (RTW) flight itinerary possible. No other website can beat it, and this job is to prove it. Just check out a few of the examples below on how to create one for really cheap:
How to Travel by Plane to 17 Cities in Europe for under $500 in One Trip
How to Travel by Plane to 9 Cities (7 Countries) in Southeast Asia for under $400 in One Trip
How to Travel the United States by Plane for Really Cheap. Fourteen States for Under $600.
India and Sri Lanka: 11 Cities by Plane for under $450 in One Trip!
Cheap Round the World (RTW) Tickets – 15 Countries for under $1,500 in One Trip
Travel 10 Cities in Africa for Cheap by Plane from Europe for under $1,550 in One Trip
More examples can be found here.

As an example, I have created a flight itinerary to 8 European cities (a city each week) from New York City (NYC) and back, for under $600! All flights are non-stop. That means I'll have an additional $1,400 for accommodation, transportation, and any extra travel expenses.  Take a look at my BookIt List and flight map screenshots that were generated at SkySurf.Travel below. To learn more about how to build an economical flight itinerary, visit the SkySurf.Travel blogs posted above.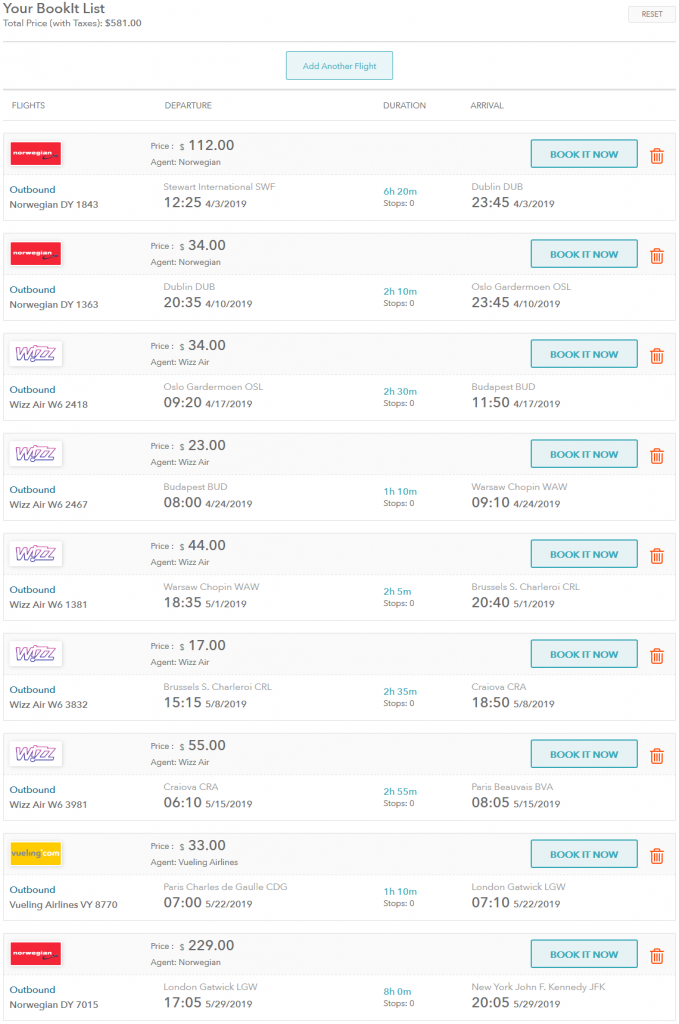 My example flight itinerary destinations include: (April 3 – May 29, 2019)
New York (Stewart International Airport SWF) – Starting point (a bus ride from Port Authority to SWF airport only costs $20)
Dublin, Ireland (April 3, 2019) – $112
Oslo, Norway (April 10, 2019) – $34
Budapest, Hungary (April 17, 2019) – $34
Warsaw, Poland (April 24, 2019) – $23
Brussels, Belgium (May 1, 2019) – $44
Craiova, Romania (May 8, 2019) – $17
Paris, France (May 15, 2019) – $55
London, England (May 22, 2019) – $33
New York (May 29, 2019, JFK Airport) – $229
That's a grand total of $581 for all flights. The possibilities for creating an economical multi-city flight itinerary are endless. Visit SkySurf.Travel to start building yours.
Applying for this SkySurf.Travel Round-the-World trip is free. No purchase is necessary.
All applications must be in the form of a short video (one minute or less) with a brief written description (3,000 characters or less).
Applicants must submit their applications through this Upwork posting.
Applications are due no later than 11:59 p.m. EST on Sunday, March 31, 2019. Late applications will not be eligible.
Your departure date must be before 11:59 p.m. EST on Friday, May 24, 2019.
To apply, you must agree to these Terms & Conditions:
In order to participate, applicants must be 18 years of age at the travel start date and be able to write in the English language.
You will be paid via the Upwork platform before each flight in a series of milestones. The total cost of flights and accommodation cannot exceed $2,000. If your trip exceeds $2,000, you will be responsible for any additional expenses.
Blog entries must contain 800 words or more. The blog entries should include local food, culture, nightlife, nature, transportation, and ways to stay on budget. You must deliver your work before each flight. If for some reason you cannot deliver your work before each flight, please contact us via Upwork to arrange a delivery time.
Excludes medical and/or trip insurance. By participating in the SkySurf.Travel Round-the-World trip, applicants agree to release and hold harmless SkySurf.Travel, (Soma Sciences and Arts Studio LLC) against any and all claims, injury or damage arising out of or relating to participation in this trip.
The duration of the trip must be for 2 months (8 weeks).
You must have a valid passport (and visas, if required by the countries you are traveling to).
The trip must be booked 30 days prior to departure and may take place any time before May 24, 2019.
All submitted content may be used by SkySurf.Travel in any future initiatives and for any purpose, including print or online marketing. Portions of the trips may also be documented by SkySurf.Travel, and any resulting footage may be used by SkySurf.Travel in any manner or for any purpose.
Any information collected about applicants will be maintained in accordance with SkySurf.Travel's privacy policy. It will not be shared with third parties without express authorization.
This job is void where prohibited by law.
The selected applicant may be required to execute an affidavit of eligibility and a publicity release unless prohibited by law.
Best of luck and safe travels!
Apply Now: https://www.upwork.com/jobs/~015aba0795c13e9f24
Press release: https://www.prnewswire.com/news-releases/get-paid-2-000-to-plan-and-share-a-two-month-trip-around-the-world-with-skysurftravel-300788610.html