This is a series of blog entries from SkySurf.Travel's first travel hiree, Romanna.
What type of tourist are you? There is one significant separation in traveling – some people grab a thick guide (or create a google map with a dozen places of interest), others prefer to get lost in a new city and feel it as it is.
Nevertheless, in Barcelona, there are some places worth visiting for both categories. Even if you don't take a look into a map, you will find them and be amazed.
So let's discover the Barna! (Do not confuse Barsa and Barna. Barsa in the name of a football team, and Barca is a shortened name of Barcelona)
Everything starts from here – Catalonia Square. There are a Suburb train station, more than 20 bus stops, and a metro station. Aeroexpress from the airport also comes here, and most of the touristic routes start from here. It used to be small before the year 1888, but now it is a vast square with monuments and fountains and a central meeting point.
The biggest attraction here are thousands of doves. There are more doves here than in San Marco Square in Venice and more than in Duomo Square in Milan. There are tourists, artists, running children who try to scare doves and peddlers who work to sell you cold water and beer. Be aware of them and do not buy anything; some of the peddlers cool drinks under the sewer covers!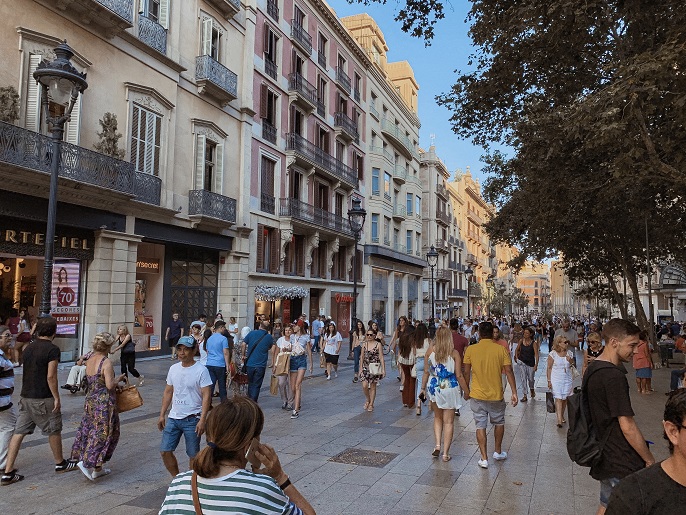 Just in a few steps from the square, Rambla street begins. It is the most famous pedestrian street in Barcelona, which spreads from Catalonia Square to the cruise port. There are tons of shops, cafes, restaurants and tourists attractions. It is always crowded with tourists and locals and seems nice and bad at the same time; cross it with caution and pay attention to your personal belongings. As I told you in the previous article, there are many pickpockets.
You are now in the old town – the Gothic Quarter. It is the heart of the city where Barcelona was born. Saved in their original appearance were buildings from the 14-15th century. Most of the streets are pedestrian; the only way to see them is by walking through them.
The main sight of the Gothic Quarter is the Cathedral of the Holy Cross and Saint Eulalia, also known as Barcelona Cathedral. Thirteen geese are living in one of the chapels of the Cathedral. They are the symbol of Saint Eulalia, who died at the age of 13 years.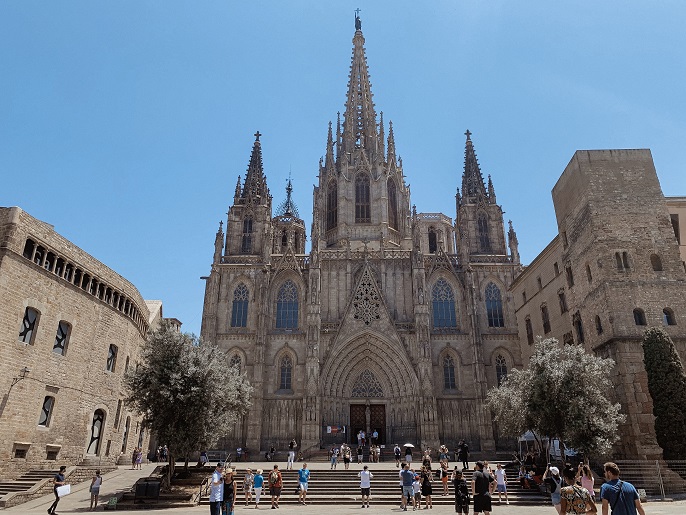 One more famous spot in Gothic Quarter – Bisbe Bridge. There are some legends and beliefs about it. The most known one says that you need to stay under the bridge and make a wish while looking at a skull to make it real. Others say that a couple who kisses under the bridge will be in love forever.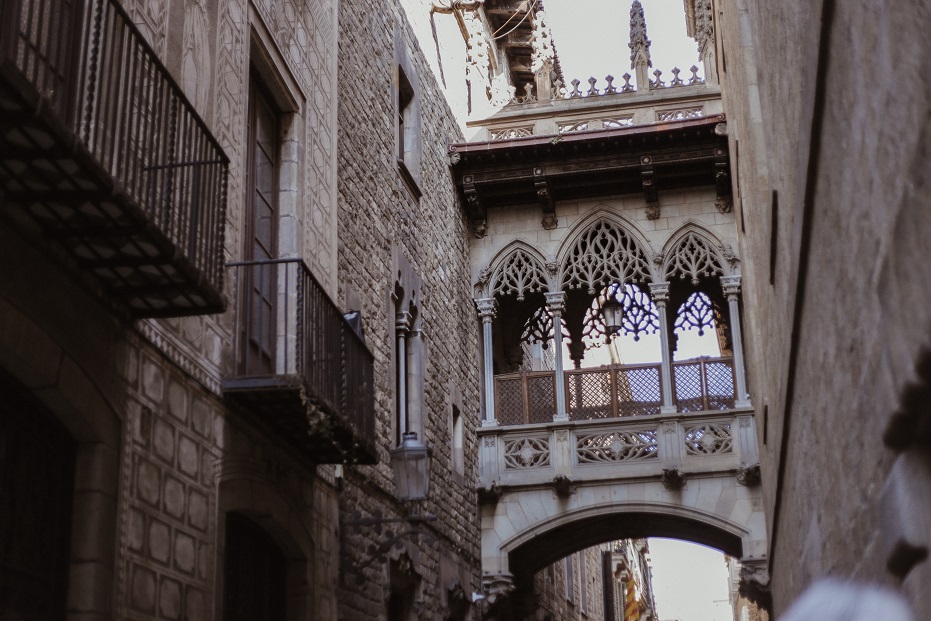 If you are interested in art, I recommend to climb the Montjuic Hill and visit the Museum of Catalonian Art. It is an extraordinary place with so many different styles – Barocco, Gothic, Renaissance, etc. You can spend half of the day in the halls of the museum!
Want to rest a little under a tree shade? Make your way to Guel Park. There are two parts of the park – free and paid. Remember, many tourists visit Barcelona every day. That is why in all the touristic places, there was a limit of visitors. Even if you arrive at the entrance, there is a big chance that there will be no more tickets.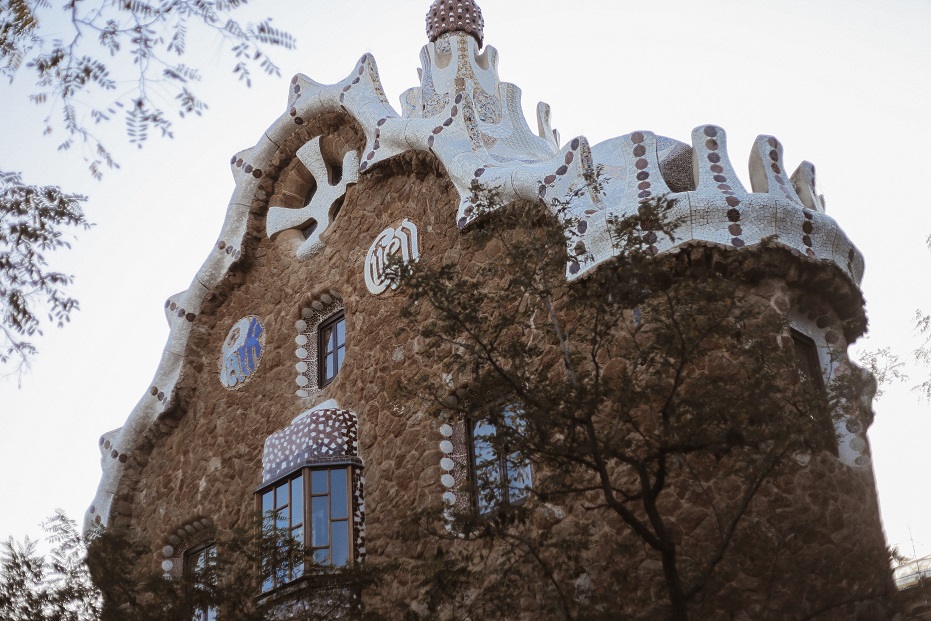 Best idea – to buy tickets online or enjoy the free part of the park. Nowadays more than half of paid territory is closed because of reconstruction. So there is no sense to pay 7,5 euros and see the renovation process. Seen from the main entrance are Gingerbread houses, but all other famous mosaic monuments are covered and hidden now.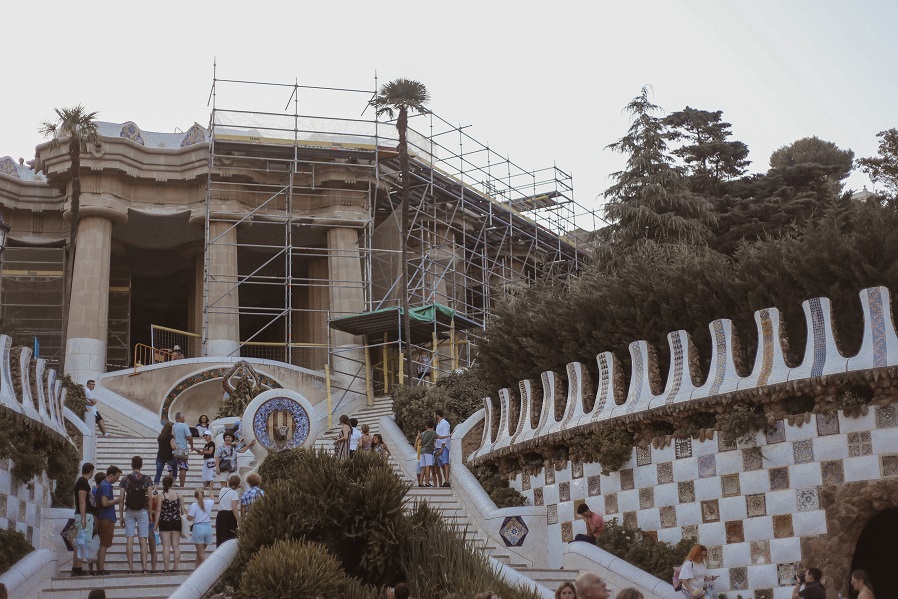 Sagrada Familia is the main symbol of Barcelona, the most known masterpiece of Gaudi and one of the most unusual European cathedrals. The building process of it started in the 19th century and is still going on today. Antonio Gaudi spent 43 years of his life on a building, and for that time, only one-third of his ideas were brought to fruition. The Cathedral should be finished approximately by 2026.
All parts of it are particular and have sense. You can spend hours focusing on its forms, monuments, and even on a tiny piece!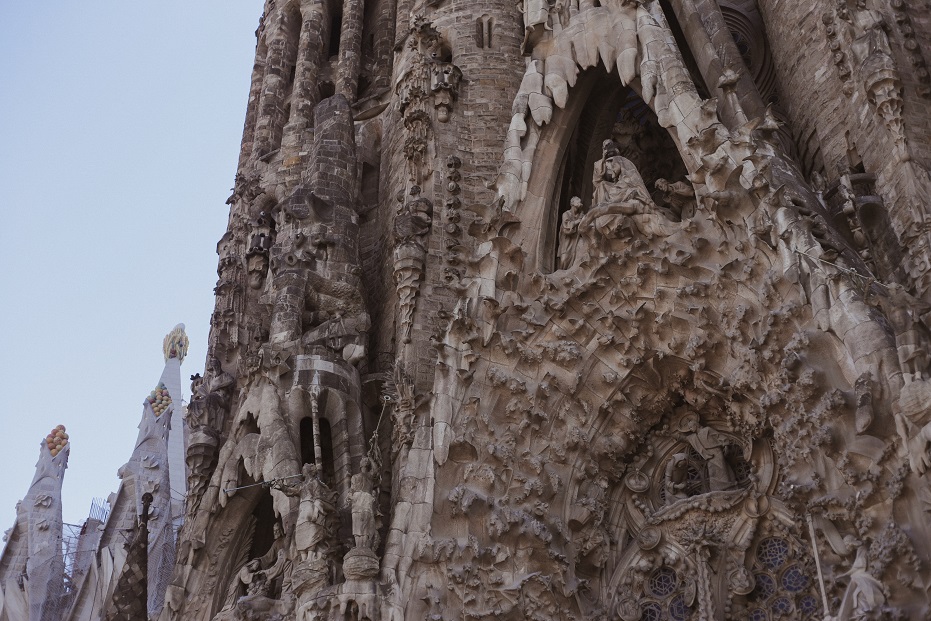 The first time I came to Barcelona and wanted to visit Sagrada Familia, all tickets were sold out three days in advance! I was so upset. You should see those queues; some people were waiting for hours to get in!
I advise you to buy tickets online. It is much easier and quicker. Use this link – http://sagradafamilia.tickets-barcelona.org/
The ticket price is 17 euros per person. You need to know the ticket is valid only for a selected day and time, so do not miss it. You can easily buy it on the internet for the day you want, skip the queue, and save some time. You can print the ticket or use your phone to pass the checking – you will need to show a QR code for scanning.
| | |
| --- | --- |
| Sagrada Familia | Sagrada Familia |
Imagine, there are more than three million people who visit Sagrada Familia every year! Part of the ticket price and donations of tourists are the only fundings of construction.
In my opinion, all these places are worth visiting at least once in your life. And of course, I will tell you more about non-touristic and less crowded places in the next article. Do not miss it – follow the blog updates!
– Romanna
Previous post: Freedom, Art, Madness. This Is a Barcelona City!
Next post: Feel like a Local in Barcelona
Romanna's trip to eight cities (five islands) in Europe cost a total of $815 (flights only).  To build your own cheap multicity itinerary, visit SkySurf.Travel.
View more photos of Romanna's European SkySurf.Travel adventure on Instagram
To read more of Romanna's SkySurf.Travel adventure blogs, click here.