This is a series of blog entries from SkySurf.Travel's first travel hiree, Romanna.
Greetings from the island of endless spring! Madeira Island is a place for true nature lovers where you can stay for a month and discover something new every day. You cannot be bored when there are so many unique places, caves, waterfalls, forests, and mountains around.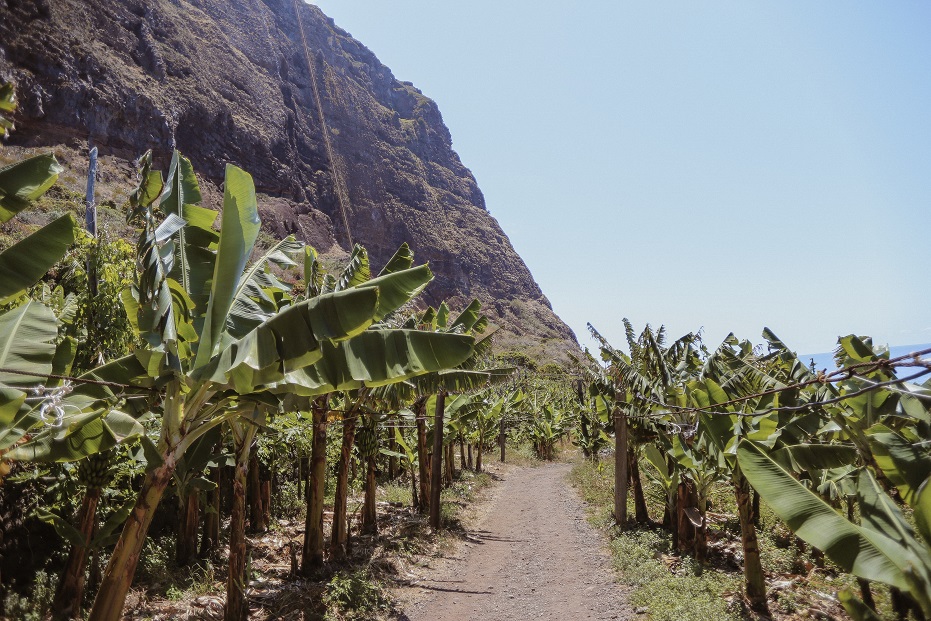 Nevertheless, I am going to tell you about the best activities!
1. Visit Funchal City
Funchal is the capital of the Madeira Islands. It is a small city surrounded by mountains and the Atlantic Ocean. All the monuments and places of interest from the tourist guides can be found in the historical part of the city. The first and foremost attraction is the Cable Car which takes you to the top of mountain Monte. The trip duration is 10 minutes, so you will have enough time to see all of the city, enjoy the view, and find out more places of interest. At the top, there is a palace and tropical garden with a unique plant collection from around the world.
One way Cable Car ticket costs 11 euros.
Entrance to the garden – 10 euros.
Interesting fact – The Cable Car works 364 days per year except for Christmas, but during my visit it was closed!
Let's move forward. Do you like passion fruit?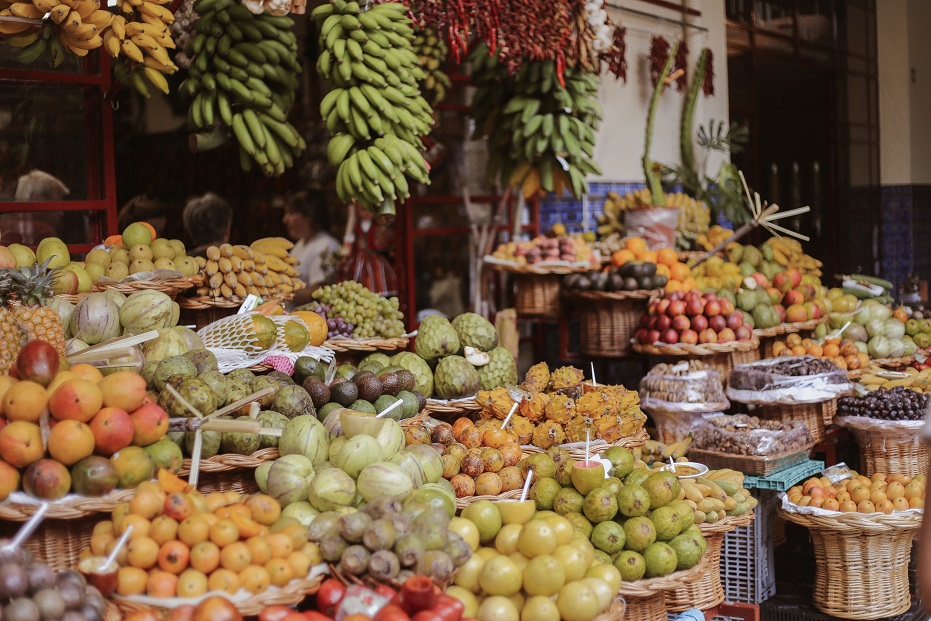 If the answer is yes, that means I found the best place for you!
Mercado Dos Lavradores used to be a food market for locals, but now it's one of the biggest tourists attractions. There are grocery, flower, and fish sections inside the market. Here you can find fruits you've never tried before. More than five types of passion fruits!
| | |
| --- | --- |
| Different types of passion fruits in Mercado Dos Lavradores | Different types of passion fruits in Mercado Dos Lavradores |
English tomato – a hybrid of tomato and passion fruit with a sweet taste of banana passion fruit, passion fruit pineapple, lemon passion fruit, and other flavors. Here you can also see anona – custard apple, cactus figs, and delicious fruit – it is a real name for monstera fruit!
Here you can take a spoon and try all the fruits you see around! But I do not recommend you to buy fruits on Mercado Dos Lavradores Market. Prices are far above market value. For example, most of the fruits cost more than 20 euros per kilo, while in the supermarket it will be around 10 euros.
Few words about the flowers. I am the biggest fan of the protea flower, and this place was awe-inspiring for me – I have never seen so many of them in one spot! Due to climate, Madeira has excellent growing conditions for proteas and other exotic flowers as Strelitzia and Leucospermum.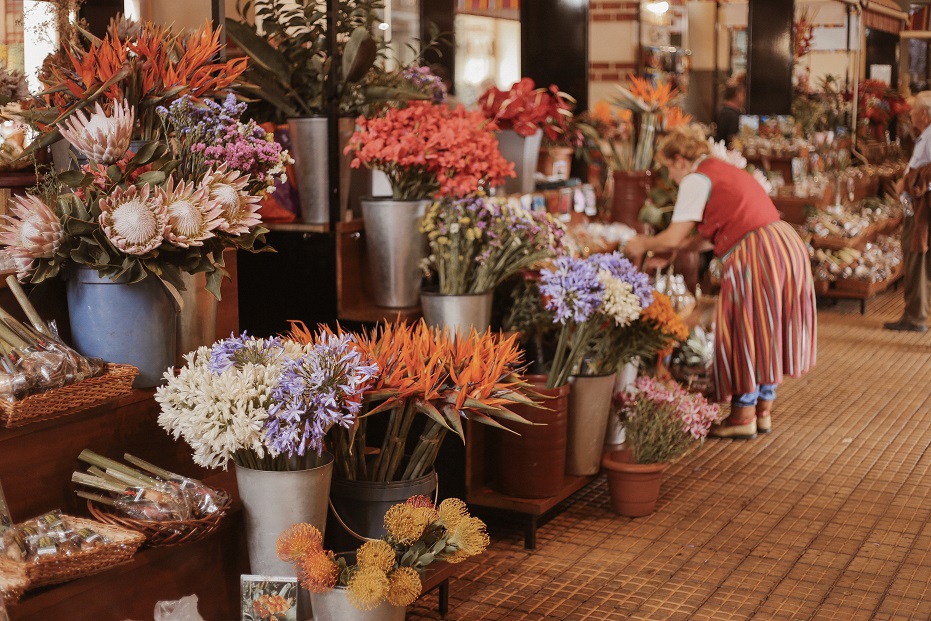 Do not miss a chance to walk through Santa Maria street. A tiny pedestrian street with lots of restaurants and shops. The main attraction is doors – all of them are painted with bright graffiti by different artists.
2. Watch the Sunrise on the Pico Arieiro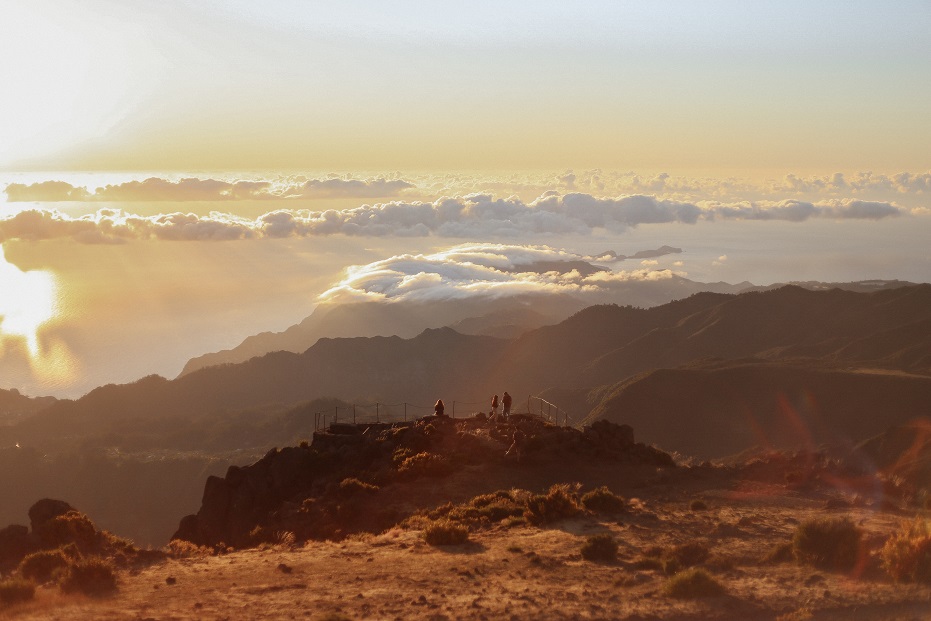 Pico Arieiro is the third highest peak of Madeira Island. If you want to enjoy the sunrise, you need to wake up early. The way from Funchal takes 40 minutes to get there by car + 10 minutes of walking to the viewport. You can be sure – it is worth it – 100 percent! If you have free time and lots of energy – walk to the highest peak Pico Ruivo (1,862m above sea level). Choose one of two walking passes and enjoy nature! One-way takes about 3 hours, and if you choose the round-trip, it will take 6-7 hours to cover the 12 km route.
3. Ponta De Sao Lorenzo One-Day Walk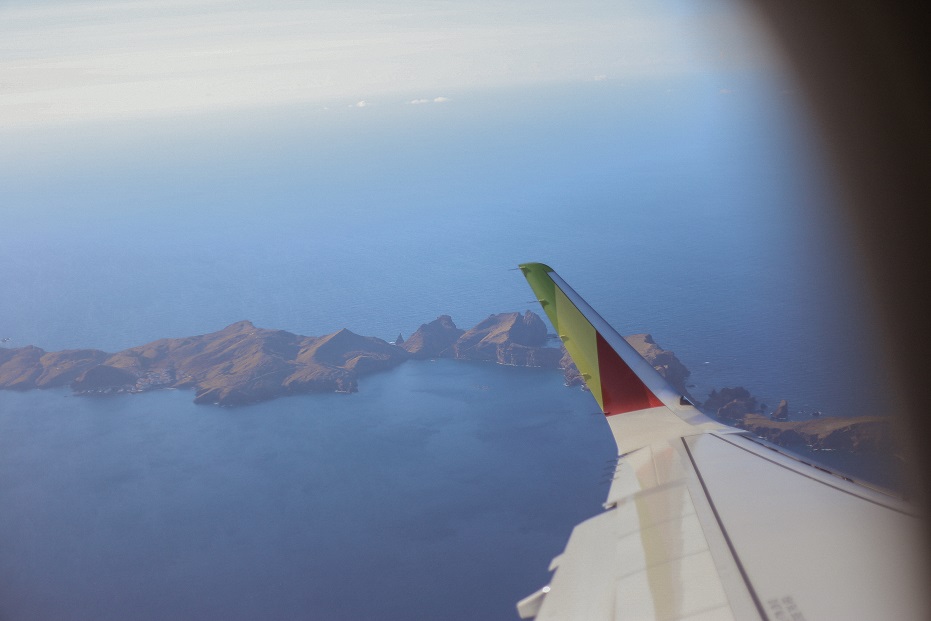 The easternmost point of the island will be your last memory of Madeira – you will see it during your flight! But before taking the plane, I advise you to come for one day. After a 12 km walk, you won't have enough energy and desire to go anywhere else. So, choose the day and make your way to the nature reserve. It used to be closed for tourists some years ago, but now you can easily take a walk through the Martian landscape.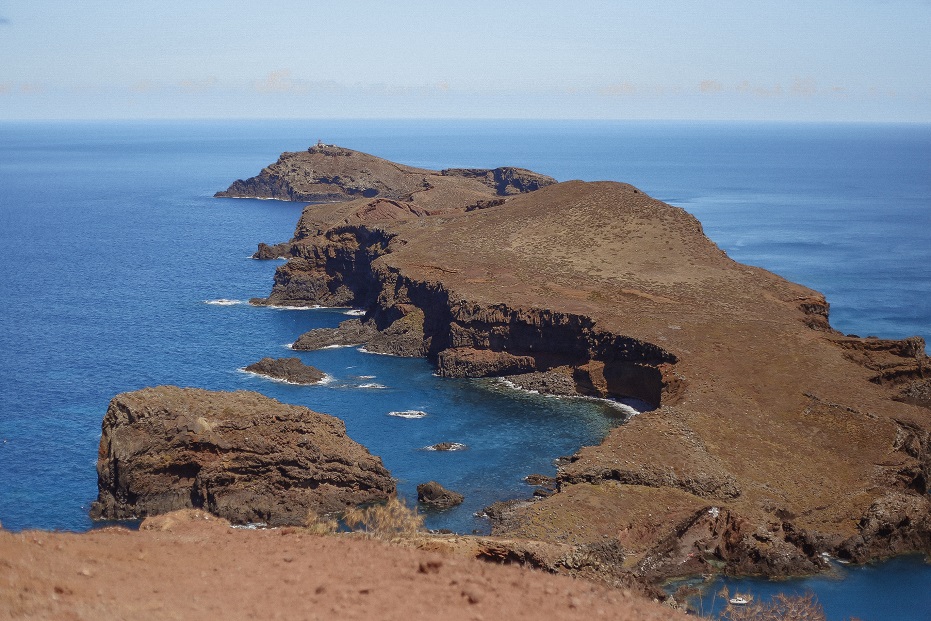 Seems like another planet!
4. Drink Traditional Cocktails in a Bar for Locals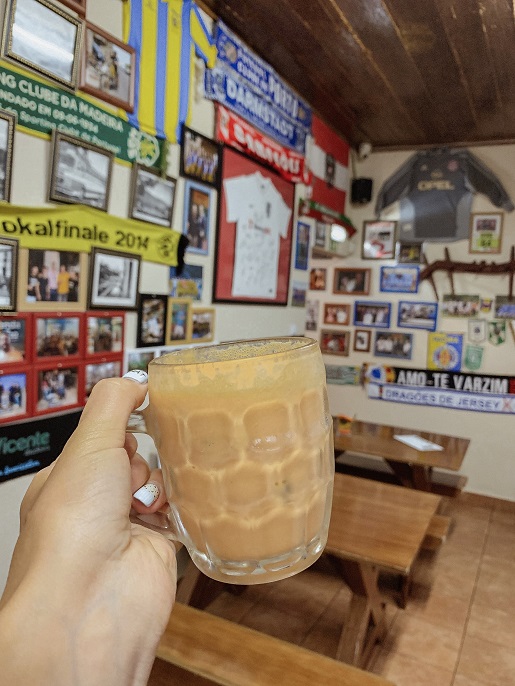 The best way to understand the culture is to find a place where locals spend time after work. On Madeira Island, there are many bars for football fans. Maybe the reason is the fact Cristiano Ronaldo was born in Madeira. I am not sure, but locals are addicted to this sport!
So, meet some locals, choose a small bar, and drink the traditional cocktail.
There are two types: the more strong Poncha, and the lighter one Nikita.
Poncha is made from rum, lemon and orange juice, and honey. Too sweet and too strong as for me.
Nikita – really strange milkshake cocktail which was named after a song of Elton John. Ingredients sound crazy – pineapple juice, vanilla ice cream, beer, white wine, and a slice of pineapple. Believe me; it tastes better than anything you can imagine!
5. Swim in the Natural Pools of Porto Moniz
Madeira is not the best choice for a beach vacation. Nevertheless, you can find some unique places to swim in the ocean. Pools are made by lava so you can see black lava rocks around.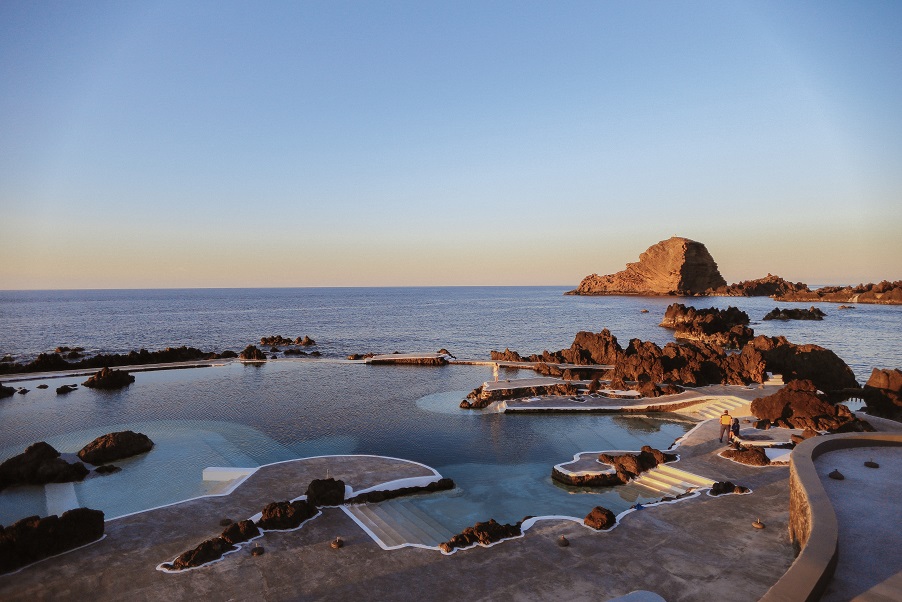 This place is named Piscinas Naturais. Entrance fee is 1.50 euros. There is a snack bar on the territory, lockers, shower, and toilets – everything you need during your stay. This place is open till 7 pm, and after they close, you can enter free. When closed, you can swim and watch the sunset almost alone! All tourists interested in sunbathing leave this place quickly, so you have a chance to spend the evening in silent beauty.
There are more places to see in Madeira, so keep in touch.
Follow the blog updates!
– Romanna
Previous post: Somewhere in the Atlantic Ocean – Madeira Island
Next post: My Best Destination – Madeira Island
Romanna's trip to eight cities (five islands) in Europe cost a total of $815 (flights only).  To build your own cheap multicity itinerary, visit SkySurf.Travel.
View more photos of Romanna's European SkySurf.Travel adventure on Instagram
To read more of Romanna's SkySurf.Travel adventure blogs, click here.