This is a series of blog entries from SkySurf.Travel's first travel hiree, Romanna.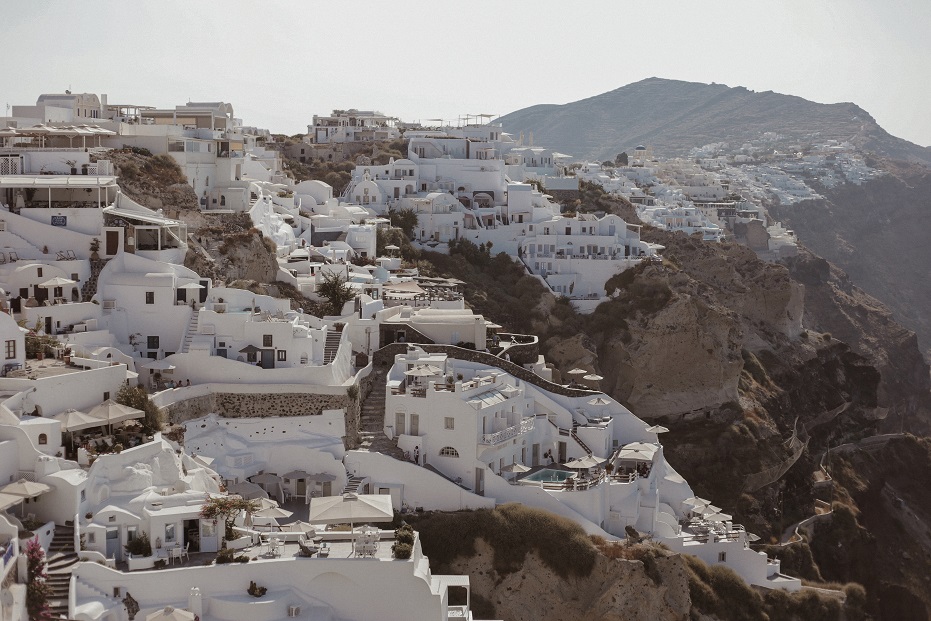 Welcome to the most beautiful corners of the globe! Santorini island annually accepts hundreds of tourists every year. Sometimes, it is impossible to understand how all of them could stay on such a small piece of ground.
Did you know "Santorini" is a nickname? To my astonishment, I found out the Island's original name is Tira only when I arrived! This name deals with the volcano eruption near the Island, which ruined a great civilization. From the old days, the Island received its nickname – Santorini, named after Saint Irina, patron of locals. There is a version that the Island is part of the legendary Atlantis that supposedly is under the water, described by Platon.
The indescribable beauty of snow-white houses, more than three hundred small churches, picturesque views on the Aegean Sea, and a mighty volcano – it is all about Santorini!
According to the version given by National Geographic, the sunsets on the Island are among the ten most beautiful in the world. They say that you can see all the existing colors while watching these sunsets. The Island has lots of awards as "best sunset," "best book store," and others. It seems more like one of the tourist attractions.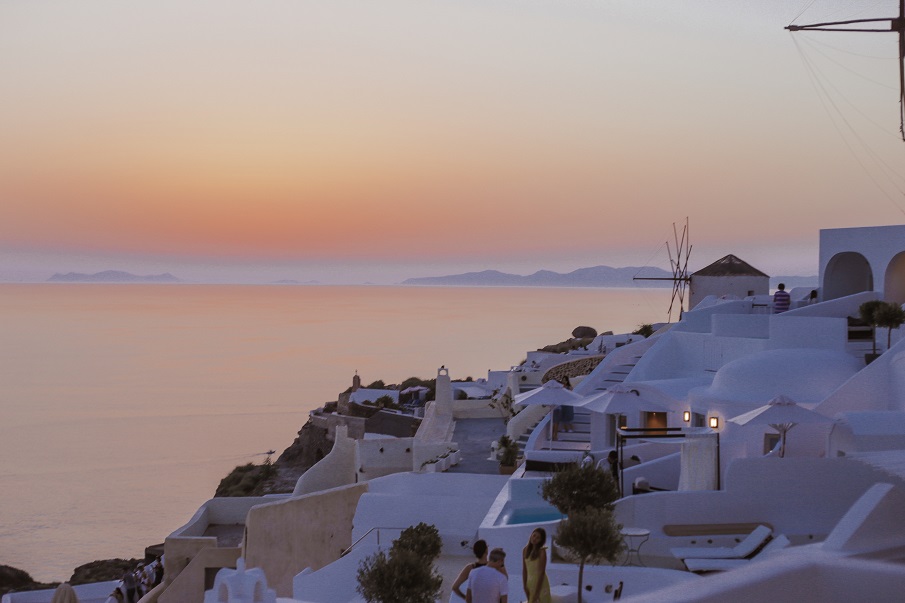 The Island also attracts by its multi-colored volcanic beaches. They are no less popular than famous sunsets. Although there are about 15 of them, the most popular ones are black, red, and white.
Getting married in Santorini island is a dream to thousands of girls all over the world. Amazingly, lots of them do it despite insanely high prices for everything. The Island is also very popular among newly-married Chinese couples. They like to spend a romantic honeymoon here and also arrange beautiful photo sessions. Santorini is relatively small, it's only 17 km long, but every square inch of it looks like a peachy postcard.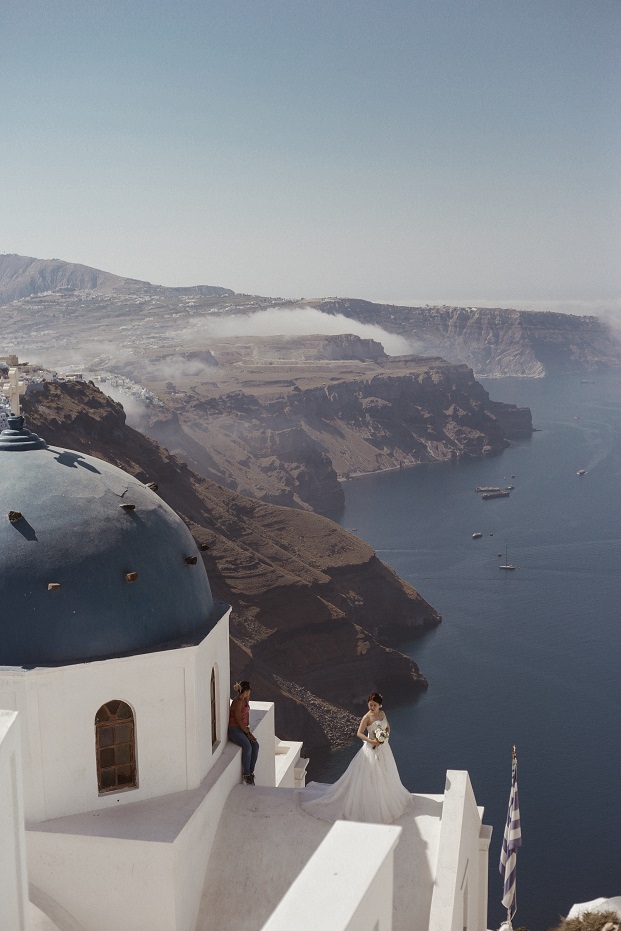 You want to get lost while walking by flamboyant surroundings. The area is 76 square km, so it is possible to get from one side of the Island to the other by car in 2 hours. In some areas, you can see the sea on both sides of the road.
How to get to Santorini?
It is comfortable to reach Santorini by ferry from Athens. Such ferries follow the time-table, the ticket price starts from 50 €. It depends on the travel time: the shorter your way, the cheaper the ticket. Also, you can reach Santorini by plane; the flight from Athens to the Island lasts less than one hour. On the territory of the small airport, there are not many facilities. There are ATMs and restaurant, and prices are a little bit overestimated. In general, this airport is considered to be one of the worst in Europe. One more way to get here is by cruise ship. Nowadays, there is a rule that only one can come per day because usually each of them brings a few thousands of people.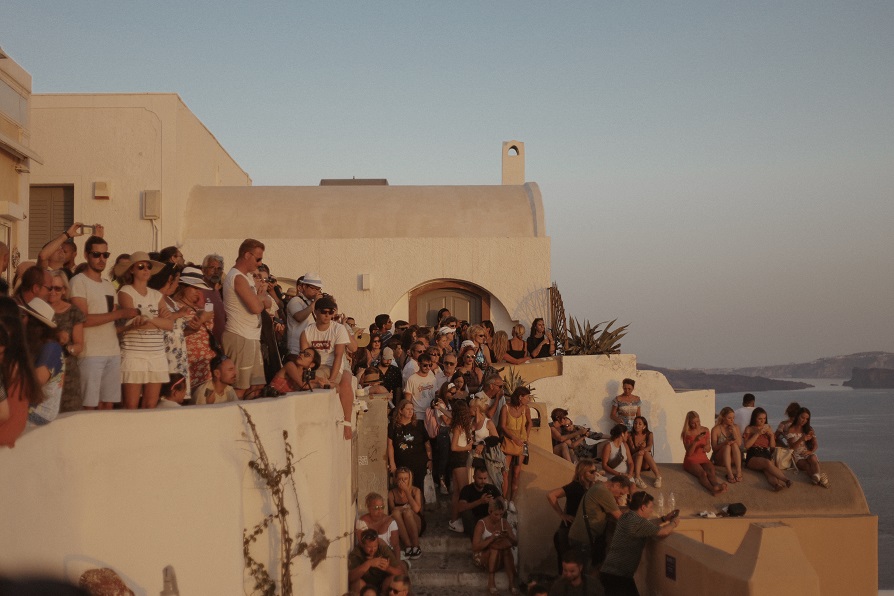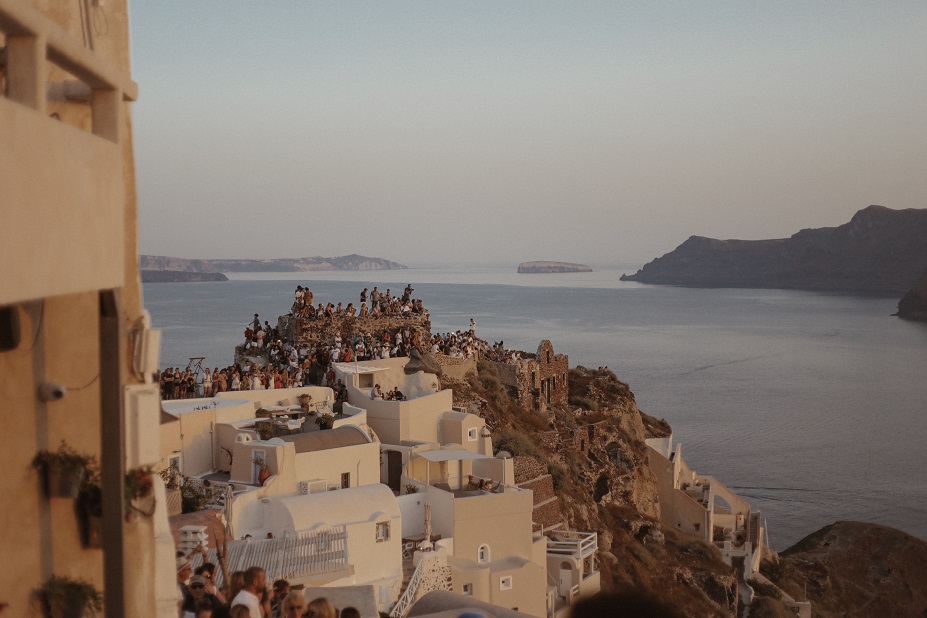 Transport 
Public transport is not the only way of movement by the Island. A lot of tourists prefer to rent a quadricycle, which is a comfortable vehicle; but you should be careful with that, especially on mountain roads.  Also, you can catch a taxi, but the prices aren't small. On average, a 10-15 minute trip will cost you 20-25 €.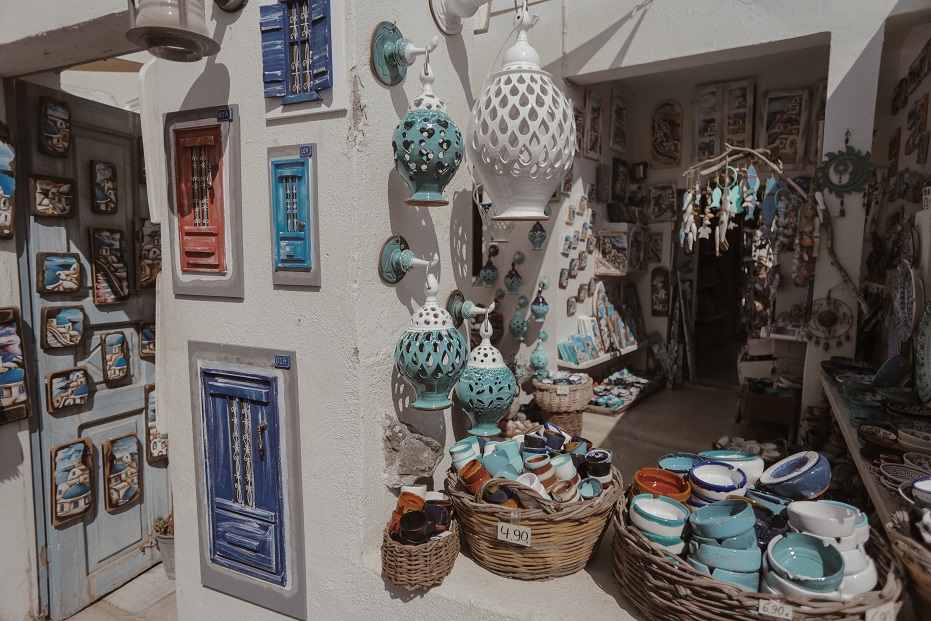 Public transport 
The only public transport on the Island is the bus. The buses on Santorini go frequently and almost to all the breathtaking places. Based on the bus terminal, which is in the capital of the Island – city Tira (Fira), are all the buses. Most of the routes go through this bus station. The buses on Santorini are not cheap: minimal price varies from 1,8 to 2,5 €, but sometimes it is necessary to change the bus to reach some points on the Island. In such a way, you will pay around 10 € per day.
Cable car 
At first sight, it seems like it is impossible to achieve Fira from the port, but for those who aren't impressed by walking on foot, you can ride the cable car. It's situated in the Old port and goes daily every 20 minutes. The ticket costs 5 €. There is also an opportunity to get up on a donkey, but I do not recommend to ride the poor animals.
Car rental 
You can rent a car on the Island, the price per day will start from 50 €, but some fantastic snow-white streets are so narrow for a vehicle to maneuver there. So in small cities, you need to always walk on foot.
Where to stay 
During the high season, prices for the cheapest hotels on the Island start from 150 € per night, and if you need a higher comfort level – 350/600 €. If you want to stay at a luxury apartment with a beautiful view and a pool, it will cost you about 800 € per night. But all the variants mentioned above aren't the only option. You also can find an apartment on Airbnb (it can be a whole flat or one private room in the flat), and the price will start from 30 €. There are some hostels in Santorini; the bed in a room for 6/8 persons will cost 20-25 €. My host was an amazingly friendly person. We watched shooting stars from the best point of the Island; he told a lot of unexpected things about the life of locals. A large part of these people works without days off and holidays for an incredibly small payment. But living in such a paradise demands patience and effort.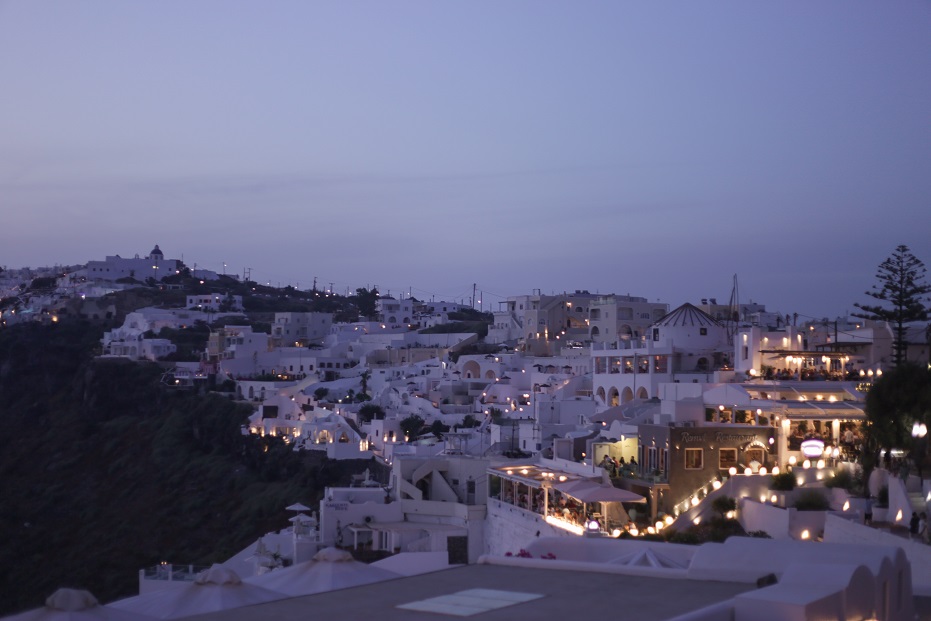 Is it worth to visit Santorini? Definitely yes. Rich with exotic beauty and contrasts, this Greek island, you will not forget. Moreover, it will take 2-3 days to get to know almost all the best spots of the Island!
– Romanna
Previous post: Feel like a Local in Barcelona
Next post: Overvalued or Not? the Real Santorini Situation
Romanna's trip to eight cities (five islands) in Europe cost a total of $815 (flights only).  To build your own cheap multicity itinerary, visit SkySurf.Travel.
View more photos of Romanna's European SkySurf.Travel adventure on Instagram
To read more of Romanna's SkySurf.Travel adventure blogs, click here.