This is a series of blog entries from SkySurf.Travel's first travel hiree, Romanna.
Want to know how Lisbon looked like before the earthquake? Go to Alfama! This area is entirely different from all else as if it was accidentally built right into the capital of Portugal. Here is another pace of life, customs, and even prices. Most local people also do not speak English.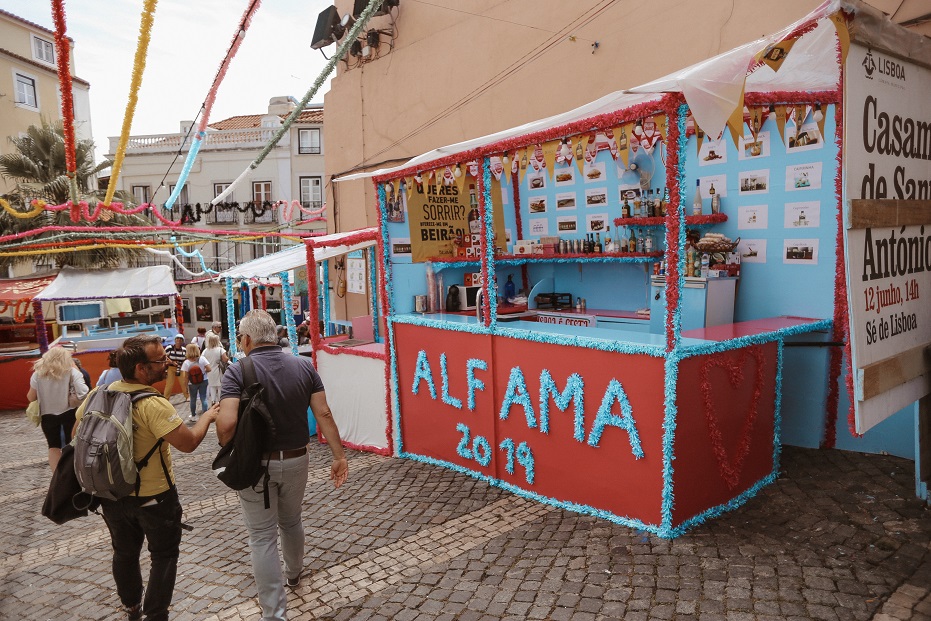 However, neither of these features is negative. On the contrary, it feels like you find yourself in another city with an incredible atmosphere. There is no longer an understanding of who is a tourist, and who is local – the people of Lisbon themselves come to this area and seem out of the crowd. Initially, the Arabs inhabited this quarter and gave it the new name. Springs – this is what Alfama means in Arabic. Earlier, there were many baths in this quarter, which served not only as a hygienic role but also as curative. Despite this, the quarter is now considered one of the oldest and poorest. There is no sewage system in some houses still, and people are forced to go to public toilets. That seems crazy nowadays!
I don't know if I was lucky or not, but I left Lisbon precisely one day before the main holiday, St. Anthony's Day. Locals say that during such fun the city goes crazy. Anyway, I had some fun, because the Portuguese began celebrations in advance. While planning your visit to Lisbon, be sure to check the calendar of events, maybe something grand will happen!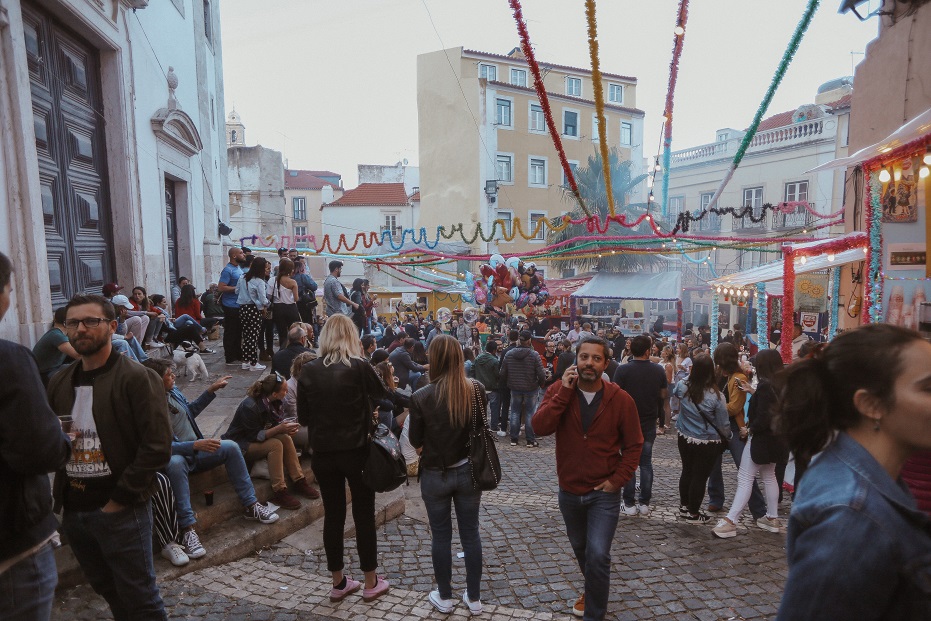 On the advice of the locals, we went to Alfama again on Saturday evening. Fragrant food at every step, smoke from the grill, the smell of sardines, noisy people – all this to the rhythms of the Portuguese Fado and most importantly, with the smiles of passersby.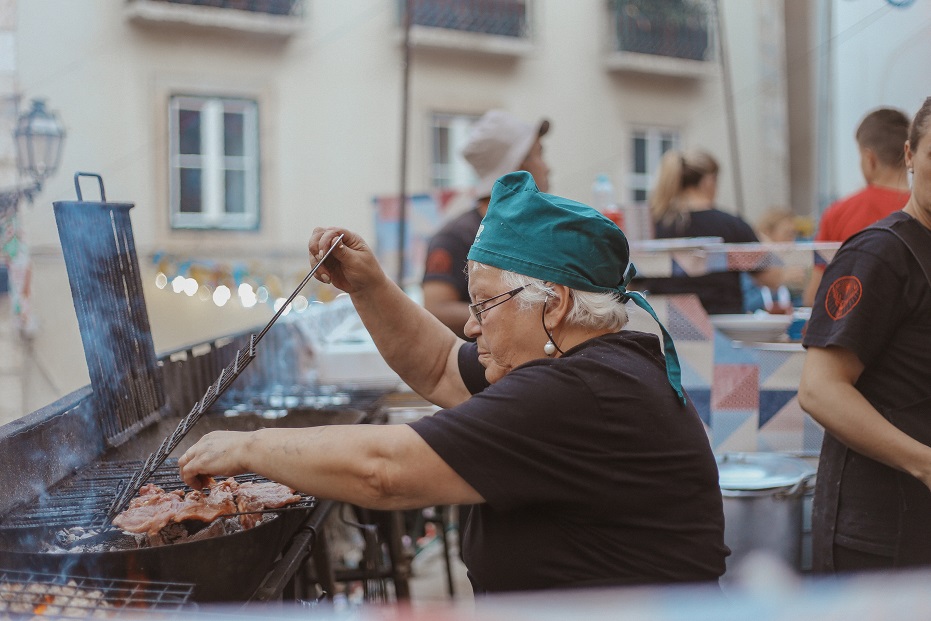 Be sure to try the local cherry liquor "ginja" from the chocolate cup and order the sardines – they are grilled just in front of you in only a few minutes!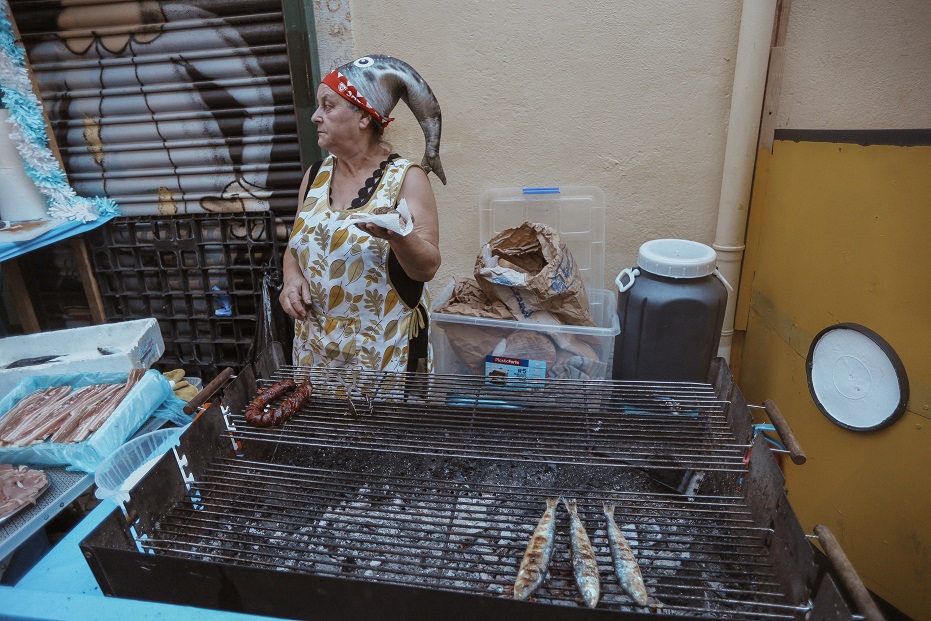 Walking through the old town, you can see graffiti on walls. Do not think it is rowdyism. In this area, houses were built tightly to each other, and if the building becomes uninhabitable, it does not get demolished, but closed and allowed to turn it into a canvas for art. In Lisbon, there are special projects for street art – artists are invited to paint on these houses. Often, such drawings do not just decorate walls, but also tell a particular story.
Take a look at the photo below.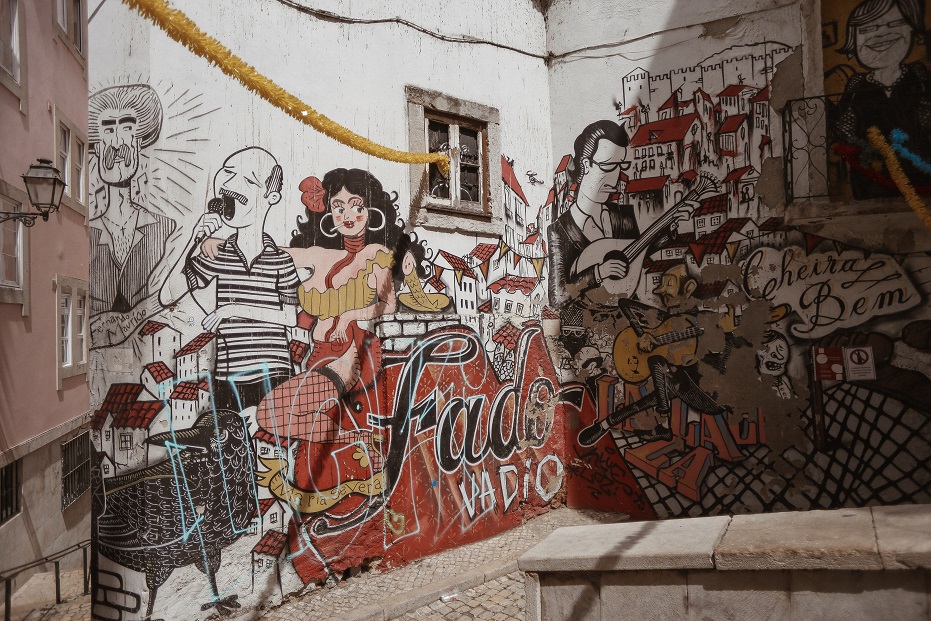 The graffiti shows Maria Severa – one of the first Fado performers. No one can say for sure how this musical genre appeared. Someone thinks that it came from the Arabs; someone says – from the troubadours, and my favored theory says that Fado appeared at the time of the navigators. These are sad songs about sailors who have not returned, about lost love, about sadness and fleeting time.
It is precisely known, however, that sad motives took their origin in taverns and brothels. In those days, Fado was a mix of song and dance, and the women who performed it were "easily accessible." In one of these public places, Maria Severa worked. Thanks to her beauty and voice, she became very famous, and so the musical genre of poor neighborhoods began to appear in high society.
Fado is still a popular music genre. Even without knowing the Portuguese language, you will be imbued with these songs and understand exactly which feeling the singer is trying to convey. That feeling is Saudade. This word cannot be translated, interestingly, into any language. It was a Portuguese notion, initially, which means a mixture of nostalgia, love, and sadness, for what was earlier and for what will never become real.
Saudade – the main part of Fado.
Another impressive quarter, absolutely not similar to others – Belem.
Ships departed to new lands right from here! You can get here by bus, train, and scooter!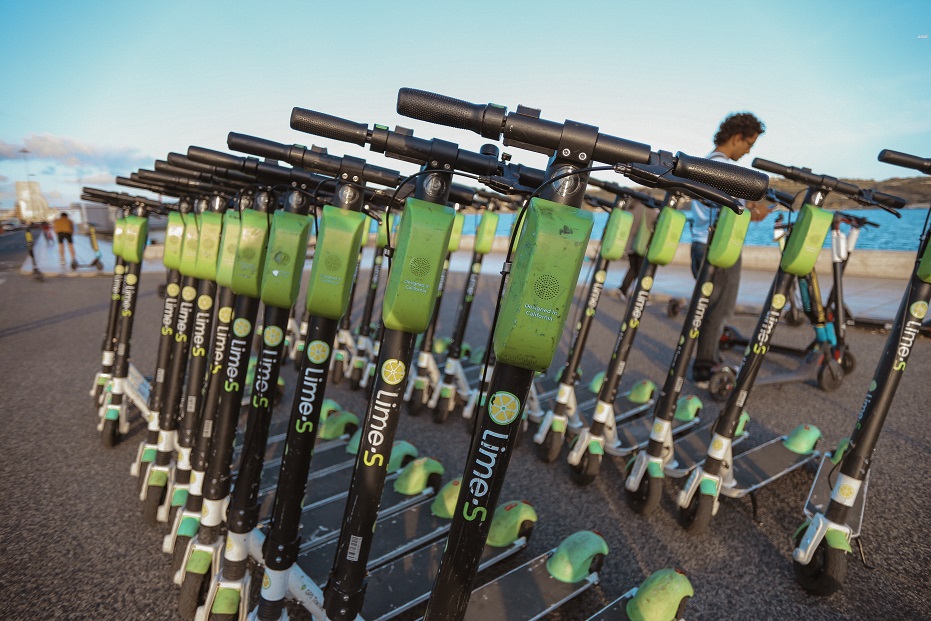 In Lisbon, at every corner, you can find this little green transport. It is enough to install the application on the phone, attach a bank card, and now you have your private transportation. At any time, you can scan the scooter by the QR code and ride with the wind.
Let's return to Belem. There are many historical sites, such as museums, cultural centers, monuments, a palace, and a monastery. If you are interested in visiting these places, I advise you to buy a tourist card – it will help you save money. If you do not want to wander through the museums, there is another plan! Relax in the shade of the trees – here is a beautiful park where people come with families and companies for a picnic or to rest on the grass.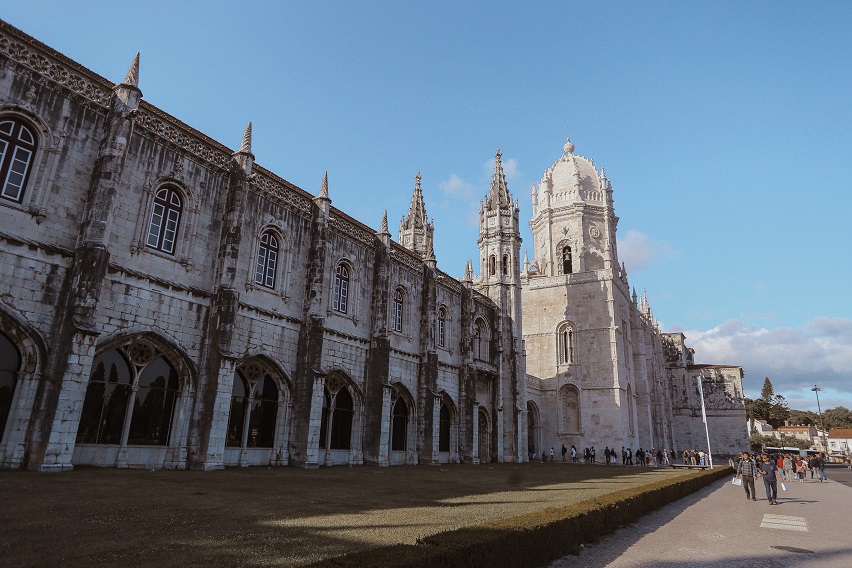 Be inspired by the beauty of the Monastery of Jeronimos and do not forget to visit the most famous confectionery in Lisbon!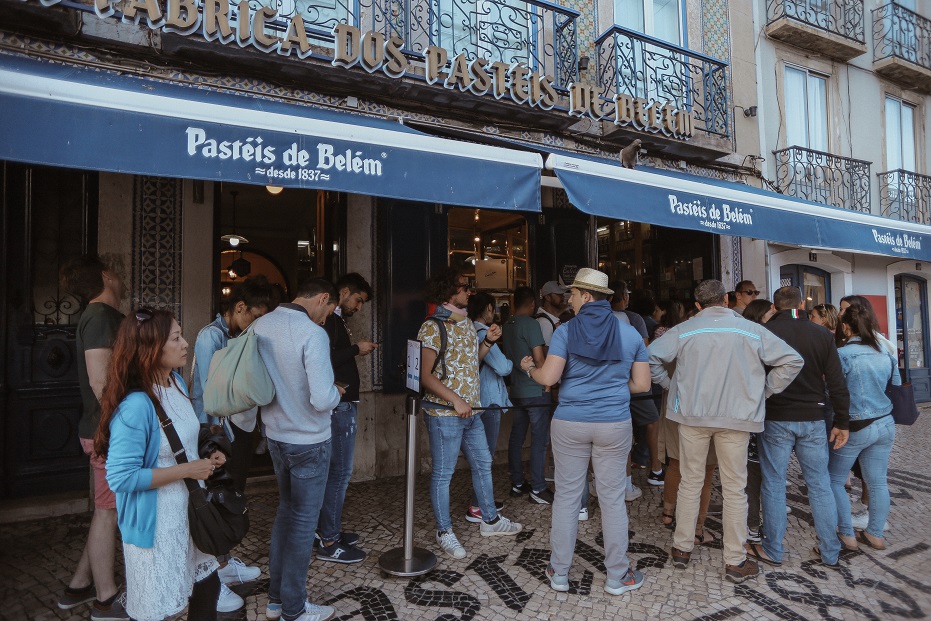 Pasteis de Belem is a cafe that produces Portuguese Pasteis de Nata – the world-famous Portuguese cream cakes. The recipe was invented by monks right here. Of course, there are a lot of people who want to try them here – prepare to stand in a long line.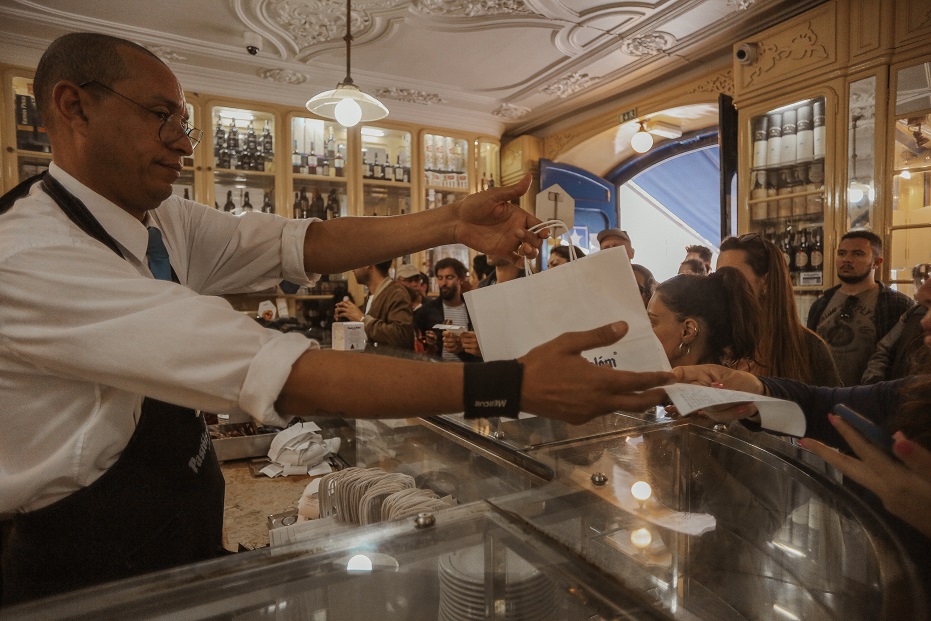 Do not worry; it moves quickly. 15-20 minutes, and now you already have the cherished Pasteis! Just do not eat them right away – go to the embankment overlooking the Tagus River and the 25th of April Bridge and enjoy all together.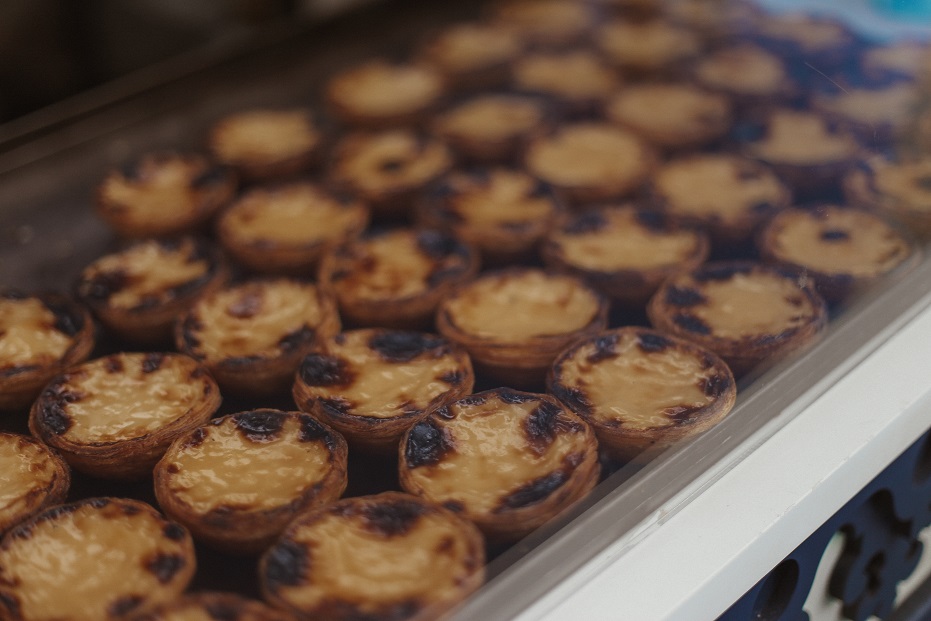 I will tell you in secret; I liked Pasteis de Nata in other pastry shops more – too much cream here. But everyone's tastes differ!
Of course, Lisbon is not only history but also modernity. In the next article, I will tell you about places where young people go, what they eat and where to meet the best sunset in your life.
See you! Romanna
Previous post: Discovering New Countries – Part 1 of Romanna's Trip to Lisbon, Portugal
Next post: Lisbon: Places Where Young People Go, What They Eat, and Where to See the Best Sunset of Your Life
Romanna's trip to eight cities (five islands) in Europe cost a total of $815 (flights only).  To build your own cheap multicity itinerary, visit SkySurf.Travel.
View more photos of Romanna's European SkySurf.Travel adventure on Instagram
To read more of Romanna's SkySurf.Travel adventure blogs, click here.